by yellowrose of Texas on 09 August 2007 - 22:08
Here is another mauling in Anderson Co.,here in Texas. Just on news at this minute...The dog was on a CHAIN
in a backyard that was fenced... Mom tried to rescue child, dog wouldnt turn loose, Mom got bit over 21 times, is in hospital with her 4 year old girl, broken bones, shoulder torn half off, and the dog was working on the childs head , when two other people stepped in an shot the dog.
I just saw the pictures on Channel 7 news in Tyler, Texas as Im typing this ,,,

by iluvmyGSD on 09 August 2007 - 22:08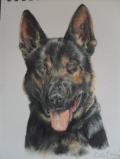 by 4pack on 09 August 2007 - 22:08
That is very sad. My prayers are with them at this time. I hope they are OK.
by eichenluft on 09 August 2007 - 22:08
Hate to hear that. Is there a link to the story? I think one problem with Pit Bulls is so many owners chain them out, lock them in the basement, or fence them in and never socialize them - how come more poodles or jack russells aren't treated the same way - betcha there would be a whole lot more kids mauled by other breeds if they were treated like many Pit Bulls are. So sad, for the people attacked, for the dog, and for the breed.
molly
by Alabamak9 on 09 August 2007 - 22:08
Yellowrose, Was there another one recent in the same area a little boy went to feed his dog or am I thinking of some were else?
Marlene

by EKvonEarnhardt on 09 August 2007 - 22:08
OK wait a minute dog is on a chain in the back yard and child was out side Question WHERE THE HELL WAS THE MOTHER????
I get so tried of hearing these stories. Yes it is VERY SAD for the Child (my heart does go out from them ) but these parents are STUPID
This is a dog - four leggs , tail and a mouth full of teeth. The dog is about (guessing here) 22 inchs and the four year old is just a little taller (maybe) Can we say Alphaness specially if the kid is tring to get on the back of the dog like most of them do!
Or wait lets see the dog is on a chain PROTECTING the tree or maybe the fence (not done yet) and the only time it get any human contact is when food and water is brought out. So he is excited to see the kid , dog wraps around the child, child falls and starts making weird sounds AGAIN WHERE IS THE MOTHER????
IF you need to Chain your dog then you don't need a dog. Dogs do not need to protect a tree, fence post or anything being chained to. It needs to be with it pack.
Pits are not bad dogs STUPID OWNERS make them bad, just like the Rotties and the Shepherds.
The parents should be brought up on charges.
JMPO

by Trailrider on 09 August 2007 - 22:08
Very sad. I hope they will be alright. I agree parents need to supervise their kids alot better when messing with any dogs, probably even the family pet, oops excuse me especially even the family pet. Kids need to know how to behave with animals, not saying this was the case but some kids are aloud to torment pets. Some won't take it at all, some may for awhile but eventually will get sick of it and the consequenses are not usually pretty.
by AandJ on 09 August 2007 - 22:08
Maybe it would help if people with little children didn't have pitbulls

by yellowrose of Texas on 09 August 2007 - 22:08
Ill give you a link later unless someone beats me Im not very good at finding news on the comp channel 7 Tyler ,Tex was the first one tonight...they interviewed the Mom.......oh , the dog was so friendly, never aggressive....why in the corn county was it on a CHAIN??????
AND THERE WILL BE NO CHARGES FILED AS IT WAS AN "ACCIDENT"
I'M GETTING MADDER BY THE MINUTE.....IT WS ANDERSON, COUNTY SHERIFF ,,,,, , HAVENT HAD TIME TO FIND A LINK
I DO NOT KNOW ABOUT THE OTHER CHILD , THIS ONE WAS A GIRL, AND IT HAPPENED TODAY.
THE NEXT PERSON THAT LOOKS ME IN THE FACE, AND SAYS" MY PIT IS FRIENDLY, AND HE WOULDN'T BITE OR ATTACK ANYONE"
HAD THAT SAID TO ME IN THE WALMART PARKING LOT, FRIDAY WITH A FRIEND OF MINE,WHO WAS SELLING LAB PUPS....TWO YOUNG MEN GOT INTO A CONVERSATION WITH ME, SAW THE CAUTION K-9 SIGNS ON MY PU....FOR 30 MINS I TRIED TO GET THRU A THICK SKULL, WITH NO LUCK,,MAYBE...AND ASK HIM TO GO HOME AND TRAIN HIS FRIENDLY PIT,,,TO DO A LONG DOWN STAY FOR 30-MINS TO AN HOUR, AND CALL ME WHEN HE HAD ACHIEVED IT......HE SAID HE HAD NEVER HEARD OF SUCH...BUT THOUGHT IT INTERESTING.........UNBELIEVABLE ........HE HAS MY CARD NO WILL NOT SELL HIM A GSD........

by animules on 09 August 2007 - 23:08
I wonder if it was that families dog or a neighbor who tried to confine their dog and the kid walked into the neighbors yard. That has happened around here with bad results.
I hope the mother and son recover.
---
---
Contact information
Disclaimer
Privacy Statement
Copyright Information
Terms of Service
Cookie policy
↑ Back to top