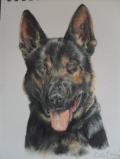 by 4pack on 14 August 2007 - 01:08
Has anyone experienced this in a dog. How did you treat it and what was your experience?
One of my dogs was just diagnosed tonight. We went in for a limp and came home with some pills to make him comfortable. I declined to amputate or do Chemo. Vet said best case was 6 months if we did all of that. No way was I going to put him through all of that for a mere 3 more months. Other option was to euthanize but I didn't.
They X-rayed his chest after the leg came back the way it did and the chest is still clear. I guess we have possibly 3 months from what the vet said. I brought him home and we will be spoiling him and saying our goodbyes until he is too uncomfortable to go on.
I just want to know if anyone has opted to fight it and how long dogs can last? I'm not pushing for longevity here. I'm always prepared to do the right thing. I'm just curious as to what others have experienced. My dog is only 7 but from unknown background. I picked him up at the pound in Sacramento County at approx. 9 months old.

by fillyone on 14 August 2007 - 01:08
Oh, I'm so sorry to hear about your dog.
Though I haven't delt with it personally, I've had a couple of friends that have. If you'd like the email to one that might have some homeopathic tips send me your email and I'll forward to her.

Barb

by Rezkat5 on 14 August 2007 - 01:08
We usually recommend amputation of the affected limb with chemo to follow. It's not for everyone.
Some clients will opt for surgery alone.
We've had several dogs that have lived two or three years past the surgery. One dog who just had the amputation lived two years afterward as well. There's one greyhound that the tumor was found almost accidently as she had broken her leg in a different spot on the track. She was around 3 I guess. Amputation and had chemo and is still alive close to 5 years later. Oddly enough her owner adopted another Greyhound who had the same leg have to be amputated. It seems to be quite prevelant on Greyhounds off of the track.
The thing that is interesting about the amputation is that the tumor is just so painful that amputation seems to be a relief for these dogs.
Of course, the dog's other limbs need to be in good shape. ie: no HD.
How large is the dog?
Cases that I have seen where the owners didn't do the surgery the survival time was 6 months or so on pain meds alone.
I guess for me it would depend on how old the dog is and how good of shape the dog is in otherwise.
Also, seeing the success stories is helpful is my decision making.
Just my two cents

by sueincc on 14 August 2007 - 01:08
When my Zorba was diagnosed with it at age 11, the good news was (as is the case for you) a clear chest film. His was in a rear leg. We had it amputated and followed up with chemotherapy. He lived in remission for over 3 more years. He was never depressed, he never lost his appetite, he was his regular demanding, playful old self. In my opinion, you need to make a decision quickly because this type of cancer can spread rapidly if left unchecked. I would also consult with an oncologist. If you don't have an oncologist, I'll be happy to call mine (she is now a good friend) and ask her if she can recommend anyone in your area.
If you want, send me an e-mail and we can talk further or if I can answer any questions on the board I'll be happy to.

by Rezkat5 on 14 August 2007 - 01:08
Good post Sue.
I was hoping that someone else had experience amputation and chemo.
I believe that the chemo treatment is carboplatin or carplatin. once every 4 weeks for 4 treatments. unless things have changed.

by Sunsilver on 14 August 2007 - 01:08
http://www.talktothevet.com/ARTICLES/DOGS/dog_bone_cancer.HTM Good info on the disease at that link.
4pack, I'm really sorry to hear your news. I know from dealing with this same cancer in humans that the pain is pretty severe. The most common site for mets is the lungs, as happened with Terry Fox.
I guess the main consideration is the dog's age and general overall health. Chemo is hard on the system, espcially the kidneys, and younger dogs will tolerate it far better than older. It's a tough decision to make. I wish you the best in choosing the right thing for your dog.

by Renofan2 on 14 August 2007 - 02:08
4 Pak: So sorry about your dog. My sister in law's Great Dane had this and they opted for the amputation and chemo treatment. He was 5 at the time and lived not quite a year after the amputation. The amputation did provide relief to his pain and he had almost a year living a good, quality life.
Cheryl

by VBK9 on 14 August 2007 - 02:08
My Aunt had a malamute with osteosarc, the vet told her with amputation (front leg) and chemo she could expect 6 to 9 months-the dog lived almost three years after the procedures. If it was my dog and he was in good shape otherwise, I would do the treatment.

by Rezkat5 on 14 August 2007 - 02:08
My thoughts are with you.
Seeing several dogs that have had it and some that have had the surgery and some that have not. I do have say that the dogs who have had the amputation are more comfortable than the ones who haven't.

by sueincc on 14 August 2007 - 02:08
Carboplatin, every 3 weeks along with other support meds. My dog also went on a maintance dose of carbo for one year following the initial treatments. Dogs handle chemo much better than humans. The support meds they have now really keep the dog feeling good. It's important to do the chemo because otherwise chances are the cancer cells will travel in the blood stream and attack lungs or other vital organs.
I agree that following amputation of the offending limb, they seem to really feel much better & recovery from amputation is pretty fast. They are usually up and walking very quickly . Dogs do great on 3 legs.
---
---
Contact information
Disclaimer
Privacy Statement
Copyright Information
Terms of Service
Cookie policy
↑ Back to top