by Shelley Strohl on 01 October 2007 - 16:10
I'll start.
I browse the topics first, but when I am pressed for time, I search the topics with posts by (among others) Preston Heller, Frank Terhorst, Bob O, Silbersee, MVF (he writes so well!) DH... and a few of my personal friends' and customers'. These people write cohesively, clearly possess intellect, and tend to consider what they write prior to hitting the "Submit" button, and shy away from overly crude language and personal assaults. I am here to learn and share whatever I can with the less experienced, appreciate same in the amount of time I have to sit in front of this old laptop.
How 'bout ya'll?
SS
by Blitzen on 01 October 2007 - 16:10
I generally read the messages with the topics that appeal to me. I find most everyone has something interesting to say.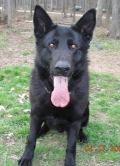 by Kelly M Shaw on 01 October 2007 - 16:10
I'll browse, and see if anyone that I know personally wrote anything that I might be interested in, but I also do what Blitzen does as well. What ever interest me I will look at. I am rather sick of the bashing, and bad language, so that is what I do ignore.
by gsdlvr2 on 01 October 2007 - 17:10
I'm still looking for SS to write about Orpie on the other thread
but, I also do what Blitzen does, and also there are are several posters I pay no attention to a routinely discount them because they consistently don't add to the topic.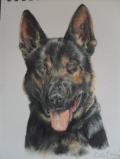 by 4pack on 01 October 2007 - 17:10
Interesting or helpfull topics first, I change all the time who I look for. Always interested in OlskoolGSD's posts and usually D.H.'s, if it's about show line dogs 9x's out of 10 I don't even read it unless the rest of the board is dead like it has been this past month. Where did all of he real breeders go? Seems we have a bunch of pet people and newbies with nothing much to share but cute stuff. I like cute but I come here to pick something up I can use later.
by triodegirl on 01 October 2007 - 18:10
I usually post cute stuff because I don't want to get my head bashed in by being serious. Like the kick ass dog I'm buying. Y'all would tell me I'm making the biggest mistake of my life and I don't want to hear it
Anyway, to answer the question, I read by topic not poster. Shouln't judge a post/poster by quality of writing skills as we have to remember English is a second language for many here.
by Blitzen on 01 October 2007 - 18:10
Triodegirl!! Good luck with the new dog.
by Alabamak9 on 01 October 2007 - 18:10
Most often the people with the most to offer in the dog world do not post here because of the vicous nature of some of the members which ruin it for the majority of posters. Shelly above is one with good information and a history of experience in dogs and the sport going way back. She knows a lot of people I do we are telling our age.
I agree when it starts getting rude count me out I posted on something yesterday and it did not take long for the sarcastic comments to start flying from a couple of posters. You almost know from reading some of them we all know the names usually fake the insults and rude foul language will start.. I love all the info you can get here with problems with health things like Bob has so much good information about.He is as good explaining things as a vet and for the longest I thought that he was.
I am sure you have noticed that the few people who do the bashing contribute nothing what so ever. I also like Don Corlene and Yellow rose the way the lighten things up especially when the posting gets so rude. Don has a amazing sense of humor his punch lines are the best.
by triodegirl on 01 October 2007 - 18:10
Blitzen, thanks! Once I have the new dog and a camcorder in my hot little hands, I'll be on everyone's ignore list

by Shelley Strohl on 01 October 2007 - 18:10
The bashing is indeed a turn off. I'm sure I miss a lot on the longer threads because I get bored and annoyed with a few bash comments in a row and hit the "Back" button rather thans scroll down any further.
GSDLVR2-
I don't even remember which thread I meant to post more about Orpie. Don't have time today. Need to go out and talk to Portia about the retreive and do some ring training with the dogs I have entered in St. Louis today before it gets too late, but will try to get to it tomoorw, likely starting a new thread.
Don does have a good sense of humor... comedy being a welcome addition to anything in my book. I think my favorite posts of all time on this board were the music parodies at Christmas time. I laughed so hard I nearly split my sides a few times reading those. Let's do it again this year!
SS
---
---
Contact information
Disclaimer
Privacy Statement
Copyright Information
Terms of Service
Cookie policy
↑ Back to top