by Shepherd Woman on 23 November 2007 - 22:11
I recently posted a message on a forum that I would not be staying because I didn't feel it was for me! I had only been a member of it for a very short time. I found it to be quite different than the other ones that I am on. Most of us like to have a little fun and talk about our dogs. Seems like every time that some one put s post up that wasn't strickly about training, the post was locked and a message was posted that it was a training forum, not a chit chat forum etc. I feel that there is a ton of knowledge on this forum with people who actually DO know what they are talking about, AND like to have a little fun doing it. I like the fact that we can post what we are thinking, on this forum also! I will stick with the PDB and continue to learn from all here. What do you all think about other forums? Any other good ones out there like this one?
by hodie on 23 November 2007 - 23:11
Sadly, there are many of us who have essentially left because of all the stuff some think is "fun". If you want fun, why can't you do it with your friends? The value of this forum is not for people posting photo after photo of their dog, repeatedly asking for critiques, or some of the other silly stuff that goes on. This forum is just about lost its value because one must wade through all the garbage and bad advice.

by animules on 23 November 2007 - 23:11
Thanks Hodie.
I don't mind some critiques being requested, but when the same person does frequently they are not longer asking for a true critiques.

by watsongsd on 23 November 2007 - 23:11
I don't think the forum should be strictly about training and shepherds. Naturally conversation will flow in many directions, and a joke or two is a plus because sometimes there is a lot of arguing. The pictures of dogs is good too. How can you get opinions on a dog with our seeing it? And I do not know about the others but I like looking at the pictures of the dogs, don't you ? Getting comments on how your dog conforms to the standard from multiple people is a major benefit of this site. How else will a newbie know whats good or bad about their dog. Also other people will see what you don't. And lastly who can say what is good or bad advice. Different strokes for different folkes. But sometimes the arguing and name calling does get out of hand.

by watsongsd on 23 November 2007 - 23:11

by Shepherd Woman on 23 November 2007 - 23:11

by Liberalandy on 23 November 2007 - 23:11
shepherd woman, I have been in the same political chat room since 2000. There's only half of us remaining. Everything turns personal, everyone knows better. It's just not in here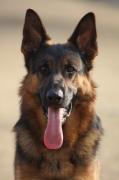 by artillery on 23 November 2007 - 23:11
I can see where the goals of having a board about training can and would be a very good thing, however, when things heat up between posters with opposing viewpoints, its nice to break things up with some lighthearted humor. As long as the post is labeled appropriately, I think its just fine. If I dont want to read it I wont and if I do, well then good for me, I learned to read. lol.
by maligator08 on 24 November 2007 - 00:11
It irritates me that people get upset and leave forums just because no one fawned over their dogs and froo froo posts.
I like a good funny story now and then too, but when I ask a serious question, I hate it when my thread gets filled with "Oh yeah, my dog stood on his head today" crap. Save it for a laid back, not training focused forum or create a blog to write about "Fluffy". That way if people want to read BS stuff about dogs, they can, without wading through good solid advice about working dogs.
GEESH

by Hundguy on 24 November 2007 - 00:11
Fun forum, Stuffy forum or FREE OF BULL forum?
I agree Hodie & animules, too much look at me look at me crap going on here nowadays..
DJ
---
---
Contact information
Disclaimer
Privacy Statement
Copyright Information
Terms of Service
Cookie policy
↑ Back to top