by Liberalandy on 13 December 2007 - 22:12
Hi everyone. I am just trying to do the right thing for my GSD's. I have heard some breeders prefer to feed there dogs twice a day, while others just once a day. They all had beautiful dogs, but none agreed with how many times to feed a gsd. Any advise. Thanks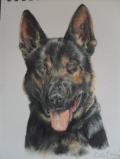 by 4pack on 13 December 2007 - 22:12
Neither is going to harm your dog, so do what is best for you and your household schedule!
by eichenluft on 13 December 2007 - 22:12
twice per day. I believe that feeding smaller amounts more often will help digestion, help reduce gas and the risk of bloat. That along with keeping the dog quiet after eating any meal. I think dogs as canids gorge themselves and be "A-ok" but it's not ideal and for domesticated dogs eating kibble (kibble engorges with fluid after eating and swells in the gut before digestion) it is a much better policy to feed less amounts more often. molly
by Nancy on 13 December 2007 - 22:12
I prefer to feed twice a day vs once to have less in the stomach at any given time. I presoak the food to make sure it has absorbed all it is going to. (no citric acid in their food, checked)
by Blitzen on 14 December 2007 - 00:12
When I lost a dog to torsion, I decided to feed twice a day and have done so for the last 25 years. I wouldn't want to eat one time a day either LOL.

by sueincc on 14 December 2007 - 00:12
2 X a day, (I only feed RAW)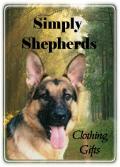 by MomofBeckett on 14 December 2007 - 00:12
I feed twice a day. It really depends on how well your dogs eat. Some of my dogs wouldn't dream of missing a meal, others aren't that crazy about food and have to be enticed by extra goodies mixed in their food. I can give a bowl in the morning and it won't be empty until later in the day. For others, if I don't feed them in the morning, they can throw up yellow foam because their stomachs are empty and like us, need some fuel in the tank. If they get their morning meal, no problems. Digestive issues are big in GSD's, so you need to watch your dogs and see what works best for their systems. When you feed only once a day you're essentially fasting your dog each day. This might work for some dogs, but I know most of my dogs get hungry and wouldn't like eating an evening meal and then having to wait til the next evening to eat again :)

by crazee4gsds on 14 December 2007 - 01:12
I prefer to feed twice per day. I usually refrain from any exercise for a minimum of 90 minutes before and after they eat. I get up very early so I feed them at about 4:30 am and play with them when I return home from the gym at 6:30 am before I leave for work. Then, I feed them again at about 5:30 at night before I take them for their nightly walk. We're all on such a schedule now that I can't imagine doing it any differently at this point.

by Rezkat5 on 14 December 2007 - 01:12
They eat once a day, mainly due to my work schedule. They do OK, but I'm very sure to keep them quiet after they eat in the evening. Wish that I could get my butt up earlier to feed them twice a day, but as is I have a hard enough time getting up for work. LOL
by TRUgsds on 14 December 2007 - 02:12
Twice a day for adults, no doubt about it in my mind. Three times a day for young ones
---
---
Contact information
Disclaimer
Privacy Statement
Copyright Information
Terms of Service
Cookie policy
↑ Back to top