by Shelley Strohl on 17 December 2007 - 23:12
Please see my ad: http://www.pedigreedatabase.com/gsd/classifieds/49645.html SS
by Wolf359 on 17 December 2007 - 23:12
Thats a shame.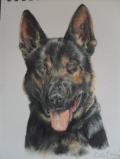 by 4pack on 17 December 2007 - 23:12
Good idea posting that up here Shelley, hopefully this boy will find a home. I'd take him if he wasn't so far away.

by Shelley Strohl on 18 December 2007 - 00:12
I'm getting a lot of response for Maximus' ad. Hopefully we can spring him and find him a good job with a loving handler. Thanks all. SS

by crazee4gsds on 18 December 2007 - 01:12
Shelley: I hope he finds a good home. Please keep us posted. I'm glad you thought of doing the ad AND posting the link on the messageboard. I don't always see the ads but always look at the messageboard.

by kitkat3478 on 18 December 2007 - 01:12
SS PM me, if nothing else gives for this dog,I will come get him until we can find something else for him. joni
by lucy on 18 December 2007 - 04:12
shelly go to www.dopedog.com--- aka k9 solutions. @ bottom of page is message board & click on it. ***********dee**************
by patches on 18 December 2007 - 13:12
Shelly, I think it is great that you want to help this dog out. I think one of the best ways to help all dogs out, would be to get a new humane officer. I would like to know how he tested this dog for its protection skills? This is what he wrote: His "protective" skills are awesome. which makes him rather intimidating and we are unable to display him on our adoption floor. Because of this we must find him a home as soon as possible. It would be best stated that he does not need an owner but rather a handler. Most dogs will bark when there is a barrier between them, that doesn't mean it has "protection skills" Also "leave it" and "no" are not german commands. Also, the humane officer states that you need to be a police officer or an experience K-9 handler to look and adopt the dog. I can understand this, if indeed it was a aggresive dog, but he clearly states that it is not at all aggresive. Mr. Wallace: You trying to make the dog look worse than what it is doesn't help the cause. You, yourself might as well put the needle into the dog. Have you even own a dog before? Ben
by DeKal on 18 December 2007 - 14:12
Do you know the background of this dog? It is a good possibility that the dog was trained in area guard. I have seen many area guard dogs this way. Inside an enclosure, the dog is intense and formidable, outside the dog is a lover and very social. It is also possible that it is merely self-preservation, so who knows.

by Shelley Strohl on 18 December 2007 - 14:12
I have not met the dog in person yet. I plan to do so tomorrow or Thursday. I don't do helper work, don't have a sleeve, but will take a big tug and a sack and see how he responds to the puppy tug. The humane officer is not a professional trainer, probably not well-versed in protection dog evaluation. He just likes the dog and is trying his best to save its life, which is why he found and contacted me, referred by the owner of a local feed store. He doesn't know the background on the dog, picked up as a stray, but he's in pretty good physical shape, no obvious issues, getting routine vet care today I think (shots, de-worming, physical check-up) Normally I would just go meet him, and if he is the dog I suspect he is, bring him home with me till I could do some training and find a permanent home for him. But I have 8 dogs here right now, only five kennel runs, and its COLD and ICY in PA. I am rotating my dogs through the house, the iced over ex runs, and crates in the basement at night this last week and for how long more I can't say... probably another two weeks till the kennel building is completed enough to move into. I don't even like to let my dogs run on the ice on our hill, worried they'll pull something slipping and sliding. I slipped on the ramp to the front door last night, ended up about 70' down our long, steep hill on my stomach, had to wake half the neighborhood calling out for my sleeping husband to put his ice boots on and come help me get back up! I could NOT stay on my feet! I don't even know if I can move the dogs out of the basement up the slope to the runs this morning... They may have to rotate through the one small whelping kennel in the basement, me cleaning and replacing shavings between each one all day, them going nuts wanting to go outside and play. I'm so sore from falling down so many times I can barely move today. kitkat- If you could help that would be wonderful. Time is running out for this guy. They're talking Friday... Thanks all, SS
---
---
Contact information
Disclaimer
Privacy Statement
Copyright Information
Terms of Service
Cookie policy
↑ Back to top