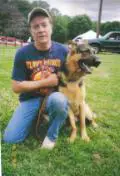 by Vom Brunhaus on 20 January 2007 - 16:01
Can anyone reccomend a good vaccum cleaner for pulling dog hairs out of rugs. Price, bagless and any other info is helpful. thanks
by immyjay on 20 January 2007 - 16:01
Hi, I bought a dyson a few months ago and it looked like I pulled a stray dog out of my carpets. Oh my, what a shock I got. It does a SUPER job. Yes, bagless and attachments also. Different models priced between 4 and $500.00
by Radical on 20 January 2007 - 16:01
Dyson Cyclone does the trick. No bags, very good after care and costs around £250. C.
by hodie on 20 January 2007 - 17:01
Vom Brunhaus, If anyone needs a good model, I do with all the dogs in the house. I too recently bought a Dyson. It has 14 hp which makes a huge difference as compared to the other top of the line models with 12 hp. It is bagless, but this is not such a great thing as one would think, except for not having to constantly pay for bags. You must empty it very, very frequently and I find it a pain. In vacuumning a small area, I will have to dump the contents at least twice, if not three times. It has a HEPA filter and that is also good. But I do not like it from an ergonomic standpoint as one has to mess around a lot to get a wand that will fit under clearances that are only a few inches high, like under couches, cabinets in the kitchen etc. But for getting up the dirt and the dog hair, it is superior to anything I have ever owned. Price was around $500. I am considering buying another top of the line canister Kenmore to do under things, just because it is easier.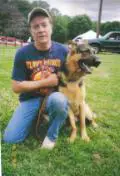 by Vom Brunhaus on 20 January 2007 - 17:01
Thanks Carol and Sharyn, currently have a Sears but dont pull hairs out of rug. Will look into it as there must be some other brands out there on the market as well. I have heard of another brand but just cant come to mind.
by EchoMeadows on 20 January 2007 - 17:01
We got a Bissel powerforce Bagless, 12amps AND LOVE IT !! Picks up little dirt (lack of accumulation) on a daily basis but lots of hair LOL. There is always lots of hair. The filter on this one you just rinse, no need for replacing outer filter, Interior filter replace about once a month or so depending I'm sure on your house size. Cost was pretty minimal I was shocked, around $106.00 I think larry said.

by Bob-O on 20 January 2007 - 18:01
I cannot recommend a good vacuum cleaner, as in the end most work the same way for removing dog hair from carpet, i.e., they suck (pun intended). I use a Kirby, a couple of different Oreck units, and a large shop vacuum-all with limited success. The only true success that I ever had removing hair from carpet is by using a damp sponge or chamois and rubbing the area to draw the hair from the carpet fibres, and then using a vacuum cleaner to remove the matts. Darned slow, I know. I have been creative and used a pan of water to dampen my feet so I can use the skin on the bottom to remove the hair. This works as well, but is difficult to enjoy! Bob-O
by 1doggie2 on 20 January 2007 - 18:01
I love the Ra-mba, the one that is automatic, turn it on and leave... It is wonderful to keep things pickup inbetween. Have to remove the dogs, their prey drive kicks in.
by maligator on 20 January 2007 - 19:01
I'm another Dyson fan. I bought the yellow one and not the "pet version". Still picks up lots of dog hair, and from what I can see (I have dark rugs), it gets the dog hair up just fine. I also use a Furminator on all my guys weekly to reduce what actually hits the floor though.

by Rezkat5 on 20 January 2007 - 19:01
I have a Dyson here too! I got the "Animal" one, it was around 500 and I love it! I call it the purple people eater. However with the bagless clear canister is is REALLY scary to see how much fur is in my house on a daily basis!
---
---
Contact information
Disclaimer
Privacy Statement
Copyright Information
Terms of Service
Cookie policy
↑ Back to top