by Christina on 24 January 2007 - 12:01
I have a litter of puppies that were born on Thanksgiving. The father is german born, trained and titled SchH 3, Kkl1, and he is a CACIB winner. The mother was born , trained and titled in the Czech Republic, ZVV 1, DKK 0/0 hips, and shown excellent. Previous owners have sold puppies from either parent for $1200-$1500, I am asking $1000 for the puppies.I advertised online before they were born, I have approx. 4 online ads now. I dont have a website. I advertised in 2 major cities, both about 4 hrs from my home. And I still havent sold one of them. I have never had this many puppies for this long. I dont know what to do next, except start eating them. ( I am totally joking ) Any suggestions?

by GSDfan on 24 January 2007 - 13:01
Make a website...people like to see the goods up front. Its all about marketing and presentation.

by MI_GSD on 24 January 2007 - 13:01
Christina, I take it by your phone number that you are located in the same area I am. It's not an easy area to sell pups that are higher priced. I very rarely have ever sold a pup to anyone in Michigan period! Right now our state isn't doing too well as far as the economy goes. Selling horses has been a nightmare too. Shoot me an email tracmi@charter.net and I'll try to help you out and put them on my website for you.
by clearwater2 on 24 January 2007 - 13:01
tell me , why should I buy a puppie from you?? what bloodlines are the parents as you said the mother is a czech,from what lines is the father? what type are the puppies ?, what is your goal with this litter? just breeding for money?
by seriously on 24 January 2007 - 14:01
This sounds purely money driven breeding. Maybe people are picking up on that. I also remember the posts about when you got this female, maybe that's driving people away. You shouldn't have bred only for monetary gain. You shouldn't have bred without having interest in your dogs first. I doubt you know very much about dogs at all quite honestly. It sounds like you imported dogs only to breed because you thought you'd get rich quick, and now it's backfired on you. Don't get a website, just stop trying to be a breeder.

by strongbond on 24 January 2007 - 14:01
Hi Just my opinion but when we got our Czech male 4 yrs ago they were a little more difficult to find. I see alot more good pups available today. With the advantage of selling via the net the market is flooded.
by hodie on 24 January 2007 - 15:01
If you breed a litter, you should be doing so only if you are sure you can sell the pups to appropriate homes, and if not, are prepared to keep every single one. As Clearwater2 said, why should anyone buy a pup from you? Not picking on you specifically, but it sounds like you have two dogs, although they may be good dogs, and thought it would be a good idea to have a litter.....that is the wrong reason to allow any mating.... For the pups sake, I hope they find good and forever homes.
by gottagsd on 24 January 2007 - 15:01
You have once stated that the dog was was in bad shape when you got her from just having a litter, so obviously the dog must have been in much better condition for you to breed her back to back. If she was in as poor condition as stated then you only breed to make the money????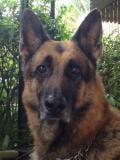 by Brittany on 24 January 2007 - 16:01
Christina, Why don't you drop the puppies off at a shelter??? isn't that what you people do when you cant find homes for your puppies? Sorry you get nothing outta me... zero, Squat! You were stupid enough to have a litter when the appropriate thing that you could of done was to do your own homework, rather then coming here and expecting people to do your dirty work for FREE. Gosh MI GSD is nice enough to be your slave for free.. If I was her I would charge you and arm and a leg for advertisement fees. I cant help but to say that you people deserve a good flame.
by EchoMeadows on 24 January 2007 - 16:01
Christina, There are many web page/site builders out there that are not terribly expensive to do yourself and you can build them/maintain them yourself as well, They walk you right through it a two year old could do it. Once that is done get a search engine booster of some kind that is what brings your site up when people do searches. Certainly there are certain responsibilities when breeding dogs, Everyones views are different, However I think the most common ground consideration is that if you bring em in to this world you'd better be prepared to accept responsibility for that puppy for the rest of it's life even after the sale is completed. Sold does not = gone now and someone elses problem. Make a good contract make sure you are protecting those pups from ever ending up in a shelter or dropped off with a friend. Make sure that dogs comes back to you if ever the need arises. At least that is my feeling on it. You'll never "Make" money breeding dogs, so make sure you have some attainable goals in mind, they could be you want to start showing, or Titleing dogs, or providing dogs for working homes, K-9, SAR, detection, and so on. That will help you in the long run to justify to yourself seeing Red for years and years to come. FEW EVER MAKE IT TO BLACK. just an FYI. I'm not juding you, and I know how it is to be in the hangmans noose around here, Hope the tip on the website help, and take or leave the rest, But hopefully some constructive guidence will help you some. Good Luck,
---
---
Contact information
Disclaimer
Privacy Statement
Copyright Information
Terms of Service
Cookie policy
↑ Back to top