by jlb4yoda on 26 January 2015 - 20:01
Hello everyone - Wondering if anyone here feeds their GSD's Fromm Gold? I am looking to switch, but wondering if anyone has had any issues with it being too rich? My dogs are currently eating Diamond Naturals and looking to switch to a different food that doesn't break the bank, but is still a good, quality food. In other words, I won't feed Origen.
Thanks!

by Western Rider on 26 January 2015 - 21:01
Tried Fromm Gold to rich now use Victor Dog Food. You have many recipes to choose from including GMO Free they also have grain free if you prefer.

by Cutaway on 26 January 2015 - 21:01
@jlb4yoda -
In other words, I won't feed Origen.
Are you saying that because of cost??? If so, that totally makes sense. Or do you have another reason you do not feed Orijen, like you had a bad experience or your research has shown it to not be a food you are keen to feed your dog(s) . I am always curious as to why people choose the food they feed, especially on this board where an overwhelming majority of the board members are very knowledgeable about foods, K9 health and nutrition, supplements, pro biotics ect...

by Northern Maiden on 26 January 2015 - 22:01
I have tried feeding Fromm multiple times, but each time my dogs have suffered from vomiting and diarrhea. A food that has consistently worked for me is NutriSource; it has many of the same qualities I like about Fromm, but has worked much better for my dogs. It is also a little cheaper than Fromm (in my area any way).
by jlb4yoda on 26 January 2015 - 22:01
Cutaway - I would honestly love to try that food, but at $90+ for a bag of dog food is more than I can stomach. Perhaps if I only had 1 dog, but I have multiple. Just isn't in the cards for me.
I can get a pretty good discount for Fromm with a breeding program they offer, so their prices are very fair, but I don't want that to be the deciding factor.
I am actually also considering NutriSource! It is made locally here in Minnesota, and I like that. I also know that a very well known large scale breeder feeds it, so that turned me on as well since their dogs are all gorgeous and thriving. Thanks Northern!!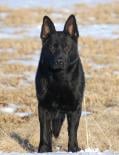 by Jenni78 on 26 January 2015 - 22:01
I have never had any issues with Fromm. You can't ask for much more than a family company from Wisonsin who has a super nutritionist there to provide you any answer you ever ask for.
A lot of times people try good foods and say their dogs did poorly and when put on a cheap food they improved, but I wonder how many of those dogs have underlying issues in their digestive system (undiagnosed giardia, for example), and the stool hardeners added to cheap foods mask the problem, therefore fooling the buyer into believing that the food is better for their dog.

by Jyl on 26 January 2015 - 23:01
I know someone that feeds Fromm and the dogs do very well on it. But it is a rich food, so it may be to rich for some dogs. But the people I have talked to that feed it love the food.
I have fed the NutriSource a couple years ago and had great results with it. The reason I stopped feeding it was because of availability. I like that NutriSource has one manufactoring facility and has great quality control.
Another food to look it is one from Merrick called WHOLE EARTH FARMS. It is at Petco and is about $40 for 30 pounds. It is a very good food and has a grain free option as well.
by ZweiGSD on 27 January 2015 - 00:01
Fromm Gold is in my kibble rotation. I have never had any problems with my two girls when using it.
by jlb4yoda on 27 January 2015 - 15:01
Thanks everyone for your input!! Much appreciated as always. :)

by Xeph on 27 January 2015 - 21:01
I've used Fromm Gold...my puppies are on it now and do great. I also use Victor and like it very much. Have used Nutrisource in the past, also with great resuts.
---
---
Contact information
Disclaimer
Privacy Statement
Copyright Information
Terms of Service
Cookie policy
↑ Back to top