by Nans gsd on 04 April 2015 - 17:04
For good health, longevity, GI, energy, shiney coats?
Thx in advance, Nan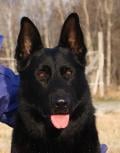 by arra on 04 April 2015 - 20:04
raw food diet and fresh green tripe!
by Nans gsd on 04 April 2015 - 21:04
Thx arra IF raw did not work for one or more of your dogs, what would you choose? Nan
by vk4gsd on 04 April 2015 - 21:04
i never touch the stuff personally.
by Nans gsd on 04 April 2015 - 21:04
OK VK4; you mean the tripe, right?? Me either.
by vk4gsd on 04 April 2015 - 21:04
i have eaten tripe (white trioe), it is very chewy and retains the flavour of what it is cooked in, not bad actually.
i don't feed it to my dogs tho, green tripe is illegal to sell here.
if you kill your own beef and it does not leaave your property then you can use it.
by Koach on 04 April 2015 - 21:04
Orijen. Nicer coats that most of raw fed dogs that I have had the oppurtunity to see. Lots of raw contains hormones and antibiotics. Since I won't eat poultry, etc. the way they are raised and treated = won't feed it to the dogs.
by vk4gsd on 04 April 2015 - 22:04
Koach where does the raw ingredients for Orijen come from?
me thinks you are in the same loop as raw feeders just one step removed in the pretty packaging. if so yr ethical stance is misguided.
you do realise you can buy grass-fed beef and free range poultry ie animal products from certified ethical sources that are certified hormone and additive free right, is this declared on Orijen labels?
by Blitzen on 04 April 2015 - 22:04
The Honest Kitchen offers very good dehydrated raw diets; some with meat, and one formula where you add the meat. I feed that to my female now. The price is outrageous, not bad for one or two dogs, but in my case it would be prohibitively expense to feed to more than a few dogs. The same for Orijen. I used to feed raw until one of our clients at the clinic ended up with peritonitis when her bullmastiff's intestine was punctured by a bone chard and a friend had to have a bone surgically removed from her dog's soft palate.

I'm lucky with my GSD, she seems to thrive on almost any diet she is offered, not at all picky either. I see no difference in her phenotype now than when I got her 3 1/2 years ago and she was eating Eukanuba. Since Jean Dodds suggests either a raw diet or a dehydrated or a premium kibble, I switched first to Victor grain free and now Honest Kitchen. I really wonder if we obsess too much over dog food

.
by joanro on 04 April 2015 - 22:04
TOP 10 BEST DOG FOODS - Facebook
https://m.facebook.com/...bulldogs/...dog...
Mobile-friendly - Orijen is a high protein, grain free dog food, and uses sweet potatoes as the ... Natural Balance Organic Formulas use only free-roaming, humanely treated, antibiotic and hormone free chicken, with a ...
---
---
Contact information
Disclaimer
Privacy Statement
Copyright Information
Terms of Service
Cookie policy
↑ Back to top