by Birdy on 04 March 2007 - 16:03
Has the GSD "rode the wave" I've noticed a lot of dogs of quality selling for a lot less than even a year ago. I have people contacting me wanting to sell their dogs for a fraction of what they paid for them. Kennel reductions and those going out of business seem to be on the increase as of late. Is the "sellers" market waning? Maybe it's just an issue in my part of the country (South West Missouri) I don't know. I would like to hear from others on this topic. I went to the website of one of those "big" puppy producers and noticed they have pups for sale that are 8 months old under their "puppies" heading. Grown dogs of course they are called "exceptional" dogs are still priced at over $5,000.00 a piece. What do you think it is? Are you seeing the same situation in your area? What is to become of our breed? I look forward to hearing from all of you. Birdy...
by Southwesterner on 04 March 2007 - 16:03
I think you are right,Unemployment is rising and breeders have been selling indifferant puppies and the public are getting tires of the trouble these dogs bring, There will be a market for healthy sensible pups and dogs at fair prices The barmy days are over

by Bob-O on 04 March 2007 - 17:03
Birdy, I have not noticed this trend, but your observation may well be correct. We all have watched several small, professional kennels in the U.S.A grow nearly exponentially during the past ten (10) years or so, so perhaps the market is saturated (don't like to use that word!) with GSD's of decent lineage and structure? Perhaps the proliferation of the internet is to be given credit (or blame!) for the increased presence of GSD's in the market? Nowadays, anyone with dogs can easily build a website for viewing by the entire world. In days past, these small breeders had to rely on advertising by word-of-mouth, magazines, and/or newspapers to sell dogs, but the ease and availability of internet advertising has perhaps levelled the playing field, so to speak. Interesting observation. Perhaps there are some facts other than the usual statistics that can be parsed from the records of the S.V. and A.K.C. that may support your statement. Time will tell whether your assumption is correct. Bob-O
by sunshine on 04 March 2007 - 17:03
Birdy, I believe your observation to be very correct. Perhaps the first signs coming to view about 3 years ago. JMHO. Finding good homes for good dogs that have the virtues that we value in our breed, is increasingly becoming a challenge. The availability of good dogs is apparent through the internet for sale ads. The discussion boards have assisted in educating the public not only about the husbandry requirements of this breed but also the socialization and training requirements. The health deficiencies and the big question if the chosen pup will actually mature into a healthy adult, leads some to walk away from the breed. A well bred GSD is simply not an animal that should grow up in the back yard and is at the same time a good family companion. The breed requires some work, if not alot of work that some people are not prepared to invest. If there are health issues, this may result in a committment of finances that many times exceeds the original puppy price. The rescue organizations are flooded with dogs. Just look at Pet Finder. Responsible breeding is not just churning out puppies but ensuring their well being their whole lives long. Too many have gone into the breed with the expectation of financial reward and not out of passion, greatly affecting the good reputation of the breed in general. Discovering myself, how many dishonest breeders are out there, hiding health issues because of significant investment in top breeding animals is heart breaking. It just is not about the dogs, their welfare or the breed. It has come down to a few that have ruined the trust in the high ideals that we so often quote from the Captain. The drop-off, I feel will be a good thing that will cause readjustment in breeding practices and eliminate those that were only in the breed for the money.
by Blitzen on 04 March 2007 - 18:03
Great post, Sunshine, and oh so very correct on all counts!!

by Birdy on 04 March 2007 - 23:03
Sunshine, The thing that worries me is that those who tried to do good and start with some pretty darn good dogs are getting discouraged and selling out or selling for less and that is or might lead to another host of bad breeding down the line. People with little knowledge are getting these dogs and truly breeding them for the money only. These people see what the breeder paid or invested in the dogs and ride their coat tails thinking they'll make a buck off the breeder. Has me worried for the breed and its future. Birdy...

by DesertRangers on 05 March 2007 - 00:03
This is actually why I have never bred my girl. Since I work her but do not show/sport I knew it would be hard to sell the pups to anyone but a local classifieds ads to pet owners, just too much competition.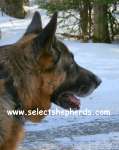 by Sue-Ann on 05 March 2007 - 07:03
This is a nation wide problem for all breeds. Our economy is really BAD. When it's time to vote for a NEW president I hope we can rally to bring some fresh air...
by ProudShepherdPoppa on 05 March 2007 - 12:03
There are many reasons for the bad economy, not all af which can be laid at the feet of the Bush-man in all fairness although a protracted war is never in the best interests of the country in the long run. Tried to sell a house lately? You will be lucky to get 1/2 what you would have 2 years ago in most markets. Many people thought that that bubble would last forever too and are way overfinanced, resulting in a rise in foreclosure rates that I see continuing into the foreseeable future. Hold on folks the ride (or should I say slide?) is just beginning.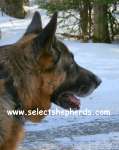 by Sue-Ann on 05 March 2007 - 13:03
Blame Bush, YES. Please. He IS responsible for this poor economy and the lies that brought us to war. Our economy is poor, dog sales for all breeds is poor. People want to keep their money vs spending on a dog...good or bad. We've lost international respect for allowing this man to bring us to this spot of mediocrity.
---
---
Contact information
Disclaimer
Privacy Statement
Copyright Information
Terms of Service
Cookie policy
↑ Back to top