by Kafen on 12 November 2015 - 14:11
Hi, I posted my story on a different forum by people who have had issues with this company/breeder. Her name is Peggy Sue Walker and I am writing this because I want to warn people of how her scam works. In 2007 my husband was a solider in the United States Army who was serving in Iraq when his truck was targeted and blown up by an RPG missile. He was flown back to the U.S. for treatment back in Fort Lewis, WA. While receiving treatment, there had been some German Shepherds service dogs who had come to visit the wounded soldiers. That is when my husband's love for the breed began. He has been talking about wanting to buy a German Shepherd for YEARS now but I insisted that we waited until our kids were a little older. Now that our youngest is in preschool I finally gave my husband the O.K. for us to start looking. We found so many breeders that we liked it was hard to choose which one to use. I found German Shepherd Security and after reading about a litter they were expecting late October between a sire named Sargeant Timber Tree and a dam named Isis. Both had many puppies with the military and police department, I had to call! Peggy Sue Walker seemed really nice on the phone, answered all my questions and gained my trust quickly. I told Peggy all about our family, about how I'm a stay at home mom, about my husband, about my kids, about how we don't have much experience with the breed but how we have be researching and about our hopes to pay it forward and have our GSD become a certified service dog. She said she was so excited and happy for us. She said we would be so happy with one of her puppies and how great they were. She told me she had one deposit so far on this litter from a woman in a different state for first pick female. We weren't exactly sure which gender we were hoping for but we were leaning towards a female at first. She asked for a deposit of half the asking price of a puppy which was $750. She told me after the puppies were born we would need had to pay her the other $750 within 3 days. This was way higher than any other breeder we looked at asked for and this should have been a huge red flag. Ironically, that was about how much we had put aside for our children for Christmas so we had it and we gave it all to her through PayPal. All this took place on October 5th. After we placed our deposit we stated looking into trainers. We found an AMAZING trainer not far from where we lived name Steve with a company called WMK9. We got in touch with him and he gave us so many helpful tips on how to choose a puppy, went over how the training would work, everything. He really took the time with us and answered all of questions. Steve told us he personally thought a male would be better for our family so I got ahold of Peggy and switch our preference to first pick male. Fast forward to October 29. I hadn't heard from Peggy in awhile but she said the puppies were due around that time and the excitement was eating myself and my family up. I sent her a text asking about how things were going. She told me that Isis and Sareant actually tied for the first time on September 1 and a typical pregnancy would be around 63 days but could be anywhere from 60-68 days. That put the due date more so around November 3. It kind of bothered me that I felt mislead about the due date but I tried not to think much of it. Knowing the puppies were due any day, my husband and I took our kids shopping and let the pick out a collar and dog bed for our puppy. To add to our growing excitement we rented the movie "Max" and had a lot of fun talking and dreaming about our future puppy. I tried not to bother Peggy the whole next week and waited as patiently as I could before I finally contacted her on November 6 to ask about how things were going. She said Isis still hadn't had her puppies, her belly was small and the litter would most likely be only 1 or 2 puppies. She told me that if the puppies weren't born that weekend that she would bring Isis to the vet on Monday. I was worried because she had told me she always had such healthy and large litters when I talked to her on the phone so I spent that weekend researching on what causes small litters. I learned a lot that weekend about dogs and the process of breeding and pregnancy. I was very anxious that whole weekend but tried again not to bother Peggy so I waited until Monday evening to contact her. A few hours later she responded by telling me Isis was not pregnant and had never been pregnant. I was devastated! She said she was expecting a litter with a different dog that was due November 17th. One huge problem with that litter, she told me she didn't have the female and she was in Virginia and she needed to sell her older dogs in order to get the money to pick her up. I was kind of taken back when she said that because she had posted that litter on puppyfind.com and her personal website so she could take deposits for it. Why would you take deposits on a litter you don't even own yet? I guess it makes sense to her though, I mean she was after all posting an expectant litter online to a female she knew wasn't even pregnant. My other problem with that litter was I had seen that online and saw she had said the owners of this litter should be experienced. That scared me. I asked instead about a different female on her dam page that said would be bred with a certain male. Peggy ignored my inquiry about that and insisted I get one from this upcoming litter. She said the puppies were worth more than the litter we had our deposit. I'm not a breeder, I'm not into dog shows, I don't understand these titles and what they mean. All I know is I didn't feel comfortable with the experience recommended for this breeding. She told me I would be fine and kept pushing it. I refused and asked if we could get our deposit back. I told her, if these puppies are worth more than the litter we wanted to buy from we would both benefit from her just selling the puppy to someone else and then just using $750 from that sale to pay us back. That's when she stopped responding. The next morning I went online and researched Peggy some more and that is when I found a forum on this site with many people talking about how Peggy had burned them. That's when it hit me, I spent all our Christmas money on a scam. I started bawling! I tried to call Peggy, she didn't answer. I then sent her a text about what I had just read and begged and pleaded with her not steal our money. Not knowing what else to do I went back to the forum and shared my experience. I received some emails from others who have dealt with her apologizing for what had happened but told me we will never see our money again. They said Peggy would say she would make things right but then ignore me and never follow through. That is exactly what was happening. I guess after my text to Peggy about what I saw online, she came on here and saw my posting. She texted me back saying she would make things right, that I can have a puppy from this litter I wasn't interested in and that she would get back with me after she posted to someone else in that forum. I never heard back from her that day. I sent her more texts, pleading with her, begging for our deposit back telling her I was trying to be civil and I didn't think it was fair for her to take such a huge deposit from me on a litter she never confirmed. She still didn't respond. The next morning I got a call from my mom saying my grandpa was rushed to the hospital by an ambulance, he's not doing well and doesn't have much longer to live. This is our last holiday with him and I did not want to let my drama with Peggy to ruin our last holiday season with him. That is when I got more firm with her. I sent her a text telling her about my grandpa and telling her that I am not going to play this game with her any longer. I told her if I did not work things out with her by the time I dropped my daughter off at preschool that afternoon that I would be done dealing with her. I went back to that forum one more time. After writing on the forum Peggy sent me another text saying she had emailed us (that was a lie) after going back and forth about how she hadn't she sent me a text with what she had said in the "email". She basically told me again that she will use our deposit on a different litter and asked why I had asked about her litter between Kara and Anzor and what had changed. She told me she was upset that I had posted online with a warning that she doesn't own the female to the litter she is trying to collect deposits on and if she doesn't get the money to buy that female before someone else does, she wont have any puppies to sell for Christmas. I am so sorry Peggy Sue Walker that I might be possibly saving other innocent families from your scam. I simply wrote her back that what changed is I no longer trust her and that I spoke with an attorney who told me I would have a case if I brought her to court. I warned her I would stop at nothing to make sure this doesn't happen to anyone else. I have not heard back from her since then and I know I wont. I received a photo from another breeder who was burned by Peggy with the proof of a text message between them on October 14th in which Peggy told her that Isis was not pregnant and she had nothing bred at that time. That is my proof that the whole time she knew and play into our excitement knowing we would never receive a puppy. Peggy Sue Walker is one of the most evil people I have ever dealt with. She does not care about anything besides money. Without a second thought, she stole my children's Christmas and our hopes and dreams. She is a Grinch. Her ad is still active on puppyfind and her website for this litter she will probably never have. It is my hope in writing this that I have saved someone from putting their hard earned money down and their emotions into a puppy they will never see.

by bomanjl on 12 November 2015 - 16:11
I'm afraid I also didn't do enough research about Peggy Sue Walker. She came to my farm, with a friend of hers, to look at horses that we raise and sell. She seemed wonderfully friendly, outgoing and we genuinely liked her. She visited our farm a few times and brought her German Shepherd, Troas, along for me to meet because I had a German Shepherd I was planning to breed. She talked me into using two different stud dogs, but when Troas (my first pick) hadn't yet successfully covered my female I asked her to only use one stud (my first choice, Troas) and I didn't care if I would only have solid black pups in the litter. I wanted a Troas puppy. After a few days she texted me and told me the dogs had successfully tied! A couple days later she informs me that it wasn't with Troas, though I had specifically requested she not use my second choice male. I couldn't believe she would have bred her to a different male, without asking me IF I was OK with that and then not even mention that it wasn't my first pick when she first told me. Troas NEVER bred my female and then, to make matters worse, my female aborted the pregnancy and had to be spayed. Peggy guaranteed "live puppies, a breeding for another female, or a puppy from another litter". I requested a puppy from a Troas litter, which she eventually agreed to when I pointed out that SHE offered this in her contract. We discussed several different dogs, litters, pups...I finally decided and she gave me "First pick" so I anxiously waited until the due date she had given me. I hadn't heard anything from Peggy about the litter so I contacted to see how things were going. Peggy then informs me that her dog lost the litter and that she only had one other litter due. This would have been the litter that Kafen put a deposit on. This is the dog she told me that she believed was not pregnant on 10/14/2015, though she continued to allow Kafen to believe that the litter was due. The litter was not sired by either of my stud choices and the puppy would have been a half sibling to the young male that I purchased from Peggy, to potentially use for future breeding. I asked Peggy when she would have another litter from one of the two studs that I had chosen and she then informed me that my first pick was now too old for breeding and my second pick had been sold. I requested a refund. She refused and insisted I could have a "complimentary breeding" or that she would trade me the male I purchased for another male and an older breeding female. I am not interested in parting with the dog I have been training, caring for, and making a part of my life and family for the last 9 months. She now refuses to even communicate with me because I won't part with my dog. She attempted to renegotiate our contract several times so that she could get horses, breedings to my stallion, puppies from future litters (if she provided the dog or puppy), etc...she has my $1500 and thinks she can force me to give her what she wants or thinks she can force me to buy dogs I have no interest in. I have never been so insulted or mistreated.
I have proof of her agreements via text, paypal, and in our original contracts. I have text messages that show her stories changing and her lies. If anyone doubts our claims, I am willing to share this information privately, though some of it is pictured in a post I submitted when I was attempting to get more info on Peggy.
It's unfortunate that she continues to take advantage of people.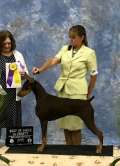 by rtdmmcintyre on 12 November 2015 - 16:11
when a person on their website brings a lot of attention to working titles yet none of their dogs or the parents of their dogs have those titles and they are pointing back to the grandparents. The hair on the back of your neck should raise.
by Kafen on 12 November 2015 - 17:11
Thank you for your feedback rtdmmcintrye. I did not know that and will be a lot more careful to pay attention to that if we ever decide to try to buy a German shepherd again.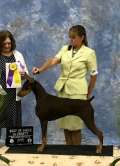 by rtdmmcintyre on 12 November 2015 - 17:11
don't let this throw you off from getting a nice German Shepherd. You are in the right place now to help locate one.

by Kafen on 12 November 2015 - 18:11
I definitely wish I would have been aware of this site sooner, there seem to be so many nice knowledgeable people on here willing to help. It's been my husband's dream for so long so I'm sure someday down the road when the dust from this situation settles and we have time to come back from this emotionally and financially we will try again. I'm just so emotionally drained right now. I've cried myself to sleep the past couple nights and just seeing a picture of a German shepherd makes me sick right now. I definitely appreciate your encouragement though!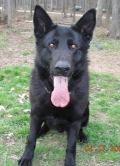 by Kelly M Shaw on 12 November 2015 - 18:11
From my understanding, she doesn't even own Troas. I had a strange phone call about a year ago from a guy that lives in Texas that said he owns Troas (at the same time a different breeder has on her website that Troas was stolen) but he said that a lady in Michigan is taking care of him. He wanted to use Troas on my full DDR girl. Red flags popped up right away and I said I'm not interested as I didn't want my kennel name, etc mixed in with that chaos that was going on.

The both of you should get together and take her to court and hopefully that will stop her from hurting others in the process. Please don't give up on getting a really nice German Shepherd. There is a Lot of Bad out there but there is also a Lot of Good breeders that you can trust. As a breeder myself I have been scammed as well trying to look for puppies that can eventually be in our breeding program, so don't give up on this Wonderful breed. Ask a ton of questions, health certifications (don't just go by them saying yeah they have their hips/elbows/dm/ect all done, you want to SEE the certifications), how their temperaments are, if they have references, how long they've been breeding and research thier name and kennel name online. Cross your T's and dot your I's and if you get a red flag or a gut feeling, run!!!!
by Kafen on 12 November 2015 - 18:11
We actually started emailing each other back and forth and are pulling together a lot of proof against Peggy. The other girl is being contacted through email by a good amount of other people who have had bad experiences with Peggy and our evidence against her is growing fast. I have already talked to an attorney who has stated we have a very strong case with evidence against her and should have no problem at all facing her in court. I was told that just because we have a judgment that doesn't mean we will get our money back. If she doesn't have the money she wont be able to pay us but that will follow her and affect her greatly. If she has a job, which I believe she does, there is a chance her wages may also be garnished. I did send her a text yesterday with the terms my attorney wanted me to set for her which stated she had a week to pay me back. He said that if she was a legitimate breeder that should be enough to for her to send the money back. I know from what I've heard from others and how unprofessional she has been with me, that wont happen but I am trying to follow his advice and do this right. Peggy has hurt so many of us and is continuing to try to find new victims. My whole purpose in writing in here is to try to help others from falling for her lies. We were trying to do things right by going through what we believed to be a real breeder and to spend that much money on a dog we believed would be of great quality. I feel so stupid right now and I wish so badly that I would have never gotten into this mess. The more I hear people talk about German shepherds on here the more apparent it is to me that I am completely out of my league. I didn't even know how dogs mated until this past weekend when I was researching the pregnancy. I thought I knew but I obviously had no idea!
by zigzag on 12 November 2015 - 20:11
Now I had a young lady call me about a month or so is that one of you guys? The person was taken by peggy also sold a sick dog to them. They seen my comments from back a couple years ago.
Steve

by susie on 12 November 2015 - 20:11
First of all, I don´t know the breeder in question, so I am not able to take sides.

But there is a disclaimer on PSW website : " When you adopt a ... ", visible for every prospective customer.
No puppies = next litter ( same sire and dam OR comparable litter of high quality ).

All of this is able to happen only because of this weird American way of "non refundable deposits" and the right of the breeder to switch the sale to another litter of his choice in case there are either not enough puppies in the litter or the dam didn´t give birth to alive puppies. This doesn´t make sense to me.

I´d drive crazy in case a breeder would tell me I won´t get the puppy I paid for but a puppy out of different parents. No, thank you.

Only out of curiosity: Is this common practise for dogs only, or is this normal at all ( horses, cats, ...cars ) ?
---
---
Contact information
Disclaimer
Privacy Statement
Copyright Information
Terms of Service
Cookie policy
↑ Back to top