by Vazquezpits on 01 August 2020 - 10:08
Hello! I am new to the world of GSD. I need help reading my dogs pedigree. I have some questions like what bloodline she comes from? If I am reading the pedigree right she is West German Show Line . Can some help me ? Her name is Nova von der Höhle des Wilden Wolfes.

by Western Rider on 01 August 2020 - 11:08

by Hundmutter on 01 August 2020 - 11:08
Yes she is based in German Show lines; but she is mostly in more recent generations 'pet' bred; ie American produced, more or less "any dog to any bitch will do" breeding - if there is a particular purpose eg Show or sports to the breeding, I cannot see what criteria have been used. This does not have to be a 'bad' thing, in that while "BackYard breeding" can be deduced from such pedigrees it does not automatically mean the pups have been badly kept or reared. They can be much loved family pets whose owners just want to produce some young ones so they can keep a family dog.

It does mean however that you should treat this breeding with caution.
You do not say whether this is your first dog, only that you are 'new' to GSDs; you do not tell us how you came to acquire this dog, nor what research you did to get her, whether you know anything about her parents' health or genetic make-up, all of which subjects you can find out more about if you care to surf around on PDB. This is by way of advance warning should you ever contemplate using this bitch for breeding. I do not recommend doing so if the information on health testing is as lacking as it seems to be from the pedigree; likewise it would be difficult to breed for appropriate buyers if you have so little knowledge of working qualities etc as that pedigree gives you.
She is also much closer inbred (on her grandsire Cigar #1) than I, or most on here, would ever consider producing; take a look at information on the general topic of Inbreeding by doing a site search. You will see that this practice is not recommended by the German authority on the GSD breed, the SV. This practice can result in horrendous health and other problems for some individual dogs.

I do not offer critiques from single still pictures of any dog, but I would say she appears at the moment to at least be a pretty specimen, of a typical GSD, and I hope you have a lot of fun with her.
Keep in touch with this board, you may have other questions we can help with.
by Rik on 01 August 2020 - 12:08
it is a 1-2 breeding, father to daughter in this case. I would wonder if the breeder had valid reasons for this.

several generations of no documented hd/ed or other health checks. this could be an oversight in updating the pedigree or maybe not important to the breeder.

just the first couple things I noticed.

best,
Rik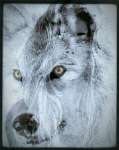 by Fantom76 on 01 August 2020 - 14:08
But she is talented. Looks like she can walk on walls
Sorry about that (could not find "wink"emogi" .)
It just drives me crazy when members enter sideways or upside down pictures. We admins used to be able to easily correct that but with the latest major program change we now have to download the picture, change it, and upload it . So I don't. Most of the problems with pictures are that they are too large.

by Western Rider on 01 August 2020 - 16:08
.
---
---
Contact information
Disclaimer
Privacy Statement
Copyright Information
Terms of Service
Cookie policy
↑ Back to top