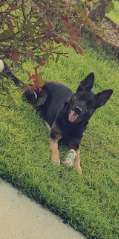 by Prissyzilla on 07 February 2015 - 20:02
I was curious as to what dogs you all are watching and why you are attracted to those dogs? I've been watching a male and his offspring to see what they are achieving as I would like to sometime in the next year or two aquire a female pup to do some local schtuzhund with. I have found the club I want to join, met some of the people there and am quite happy with my club choice. Now just to choose a good pup(and yes, I would like to get a puppy to start with even though I know you don't know what you'll get with a puppy). :) I would like to see some of your choices as to dogs, male or female, that you like and why you like them. :) Please keep it friendly! Everyone has an opinion as to what they do and do not like in a dog. Thanks all :)

by KYLE on 09 February 2015 - 04:02
Very Good question. Sorry no one had entertained it. Perhaps you should go into more details and others will follow?
by Doghotch on 10 February 2015 - 17:02
(Not seen personally - so I may change my mind when I have) ARRE v Huhnhegrab. is my first choice.
This is a male difficult to fault constructionally. He has a lot of Black pigmentation which is to his credit. He is masculine without the coarseness. Correct movement and size. I was not a fan of his sire but I am a big believer in "Blood will out"
I have others but I will wait to see how this progresses.
by SKI on 11 February 2015 - 16:02
Doghotch,
"Blood will out" in our motto in breeding.


by Khaleesi23 on 11 February 2015 - 21:02
I'm watching Extreme Orex Aykmar. Really like what I'm seeing so far with him being so young, and what all he's accomplished. I like Bolle Ja Na Ka as well. Would like to see how these two produce. Also, keeping an eye on Dinoso vom Eisernen Kreuz.
by Blitzen on 12 February 2015 - 13:02
How do you decide which dog/s you are watching? Have you seen them in person or on videos?

by susie on 12 February 2015 - 18:02
Blitzen, Arre Hühnegrab was SG1 in 2013, V1 in 2014, in case he´ll show a better bitework he´ll be VA in 2015.
Orex and Bolle are 2 very young dogs competing on a very high level ( not the norm )
Dinoso is handled by a guy who mostly handles Belgian Shepherds ( not the norm )
by Blitzen on 12 February 2015 - 19:02
I get that, Susie, but I'm wondering if these people have actually seen these dogs they admire in action or are they basing their opinions on show wins, IPO scores, other's opinons, videos?
by Mackenzie on 12 February 2015 - 21:02
Blitzen - I do know that Arre is IPO2 at this time, he has good hips and elbows and his hip rating is 77. I think that the owner is from Ecuador but I do not know whether he has the dog or whether he is in Germany.
Mackenzie
by Blitzen on 12 February 2015 - 23:02
Mac, I'm trying to understand how it's possible to favor a dog one doesn't own, hasn't worked or has never seen. I can't count the number of times I've been excited about seeing a specific dog based on what others have told me but have been very disappointed when I did see him or her. 2 were Va dogs, another a multiple AKC BIS winner. If I am going to follow a specific dog's career, I think I'd like to see him or her first or at least be able to evaluate some of the progeny. I was asking if the posters here have actually seen the dogs they are watching or if they are basing their opinions on wins, scores, others opinions, etc.
---
---
Contact information
Disclaimer
Privacy Statement
Copyright Information
Terms of Service
Cookie policy
↑ Back to top