by bubbabooboo on 07 May 2015 - 18:05
Anyone who presently owns or has owned a first or second generation Working Line ( whatever that is ) X Show Line ( also not defined by the GSD breed registries ) mated dog may contribute. No second or third hand opinions based on chats at "the club" or he said or she said. If you have owned or bred puppies that came from a mating of dogs with more than 1/2 mixed Working Line X Show Line to result in puppies with 1/4 or more Show Line in combination with so called working line pedigrees please contribute as you are qualified to have an opinion worth hearing. The last discussion on this subject was overwhelmed by those who had no personal experience with such matings or "knew" someone or had heard something. Now we can discuss it within a group that has actual hands on experience. The favorite BS from the IPO crowd is that if your dog is not IPO titled and you do not train IPO then you do not have the "right stuff" to have an opinion on the GSD. Likewise if you have not bred, raised or trained a WL X SL breeding I suggest your opinions are not "qualified" since you have to experiences to share other than those based on hearsay and rumor. Please post pedigrees and if possible photos. From the other thread on this subject it seemed that those with true experience reported good results and those with no real experience other than heresay were sure it was a bad idea. If there is any interest I will repost my dogs from the older thread .. if not then let the thread die. The information is in the earlier thread but it is awash with information that has little bearing on the true results of such matings.
by Ibrahim on 07 May 2015 - 19:05
I can not claim I myself bred work x show, but in my country we have a small population of pure bred GSDs, I know almost all GSDs available in Jordan, know means 1st hand, not seen once or twice. Here people breed work x work, show x work and show x show. I know some show x work bred GSDs very well.
Here, in general, people do not understand pedigrees, show, work, technical terms, x-ray hips, elbow and so on. But I guarantee you they know what a good GSD is.
People here train their dogs, but we do not have professional trainers and clubs, nor do we have official breed club.
I can claim I ahave 1st hand knowledge of 1st generation and second generation of show x work crosses.
If I am eligible to share my little knowledge on this thread, tell me and I will. But I will not provide names and pedigrees of dogs, just experience and knowledge, for the sake of "know" and "share" knowledge.
Ibrahim

by bubbabooboo on 07 May 2015 - 19:05
The rules of this forum as I understand them make it an open one with anyone being eligible to participate who has membership so no one other than the forum mods and admins have any rights whatsoever. Let's see how many actual owners or those who have hands on experience wish to participate. Once we have a foundation of actual facts from owners, breeders, and those with hands on experience it would be good to have anecdotal experiences but if everyone starts passing on opinions as facts the facts soon get drowned on page 23. If you would be so kind as to hold off until actual owners have a chance to join the fray if they wish I would appreciate it .. I will repost my experiences this evening as I have bred three litters thus far and I have owned at one time two adult dogs which I raised myself. I still have access through the owners to some of the dogs from my litters as the owners are cooperative and share pics with me.
by Ibrahim on 07 May 2015 - 19:05

by Ibrahim on 07 May 2015 - 19:05
I know more than (10) offspring from 1st work x show and more than 10 (2nd) generation, I did not calculate, maybe much more than that. I keep notes about those dogs.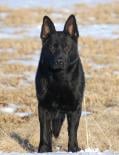 by Jenni78 on 07 May 2015 - 20:05
Ok, I bred one litter SL x WL. What do you want to know?
by glg46 on 07 May 2015 - 21:05
by glg46 on 07 May 2015 - 21:05
Olga is a 26 mos old . Mother is working line Father is showline. She's black and red like her father but is athletic and works like her mother
.

by TIG on 08 May 2015 - 00:05
First the dog
http://www.pedigreedatabase.com/german_shepherd_dog/dog.html?id=485683-remy
The picture is from her SchI I like it cause it shows her power. Look at the air under Joel's feet and Joel is over 6 ft tall and not insubstantial.
Remy brought incredible clearheadness and strength of temperament and character and prey, defensive and fight drive. In that she was an incredibly special dog having many traits we are fast losing in the breed today. She was a once in a lifetime dog and served as my mobility assist dog as well as working as my sport dog. We trained with both police dog trainers (who wanted her) and sport trainers who constantly told me that she was a world class podium dog but unfortunately the team (meaning me) was not. While she loved the work and would work for others she loved working with me -crutches and gimp and all so that's what we did.
For more about Remy please read this thread
http://www.pedigreedatabase.com/forum.read?mnr=785214-the-hallmarks-of-a-good-shepherd&pagen=1
Do I think all show/work crosses will produce such a fantastic result - hell no. Very very few will and why I feel that way I will post following this.
I would like you to note however several things about her pedigree. First of all her sire tho show line was a met lof knpv dog and national tracking champion in 3 countries - Holland, Belgium and France. He was also fairly closely linebred 3-3 on Fanto with a cross to Cello - both dogs known in the hi-lines for producing good temperament, character and good work. Her dam's pedigree is full of serious dogs known to produce serious dogs. She is linebred 4,5,7-4 on Grief with crosses to both Mutz and Marko
by Nans gsd on 08 May 2015 - 00:05
OOOOOOOH; I like her. BOL with her...
---
---
Contact information
Disclaimer
Privacy Statement
Copyright Information
Terms of Service
Cookie policy
↑ Back to top