by panzertoo on 26 May 2015 - 21:05

by bubbabooboo on 26 May 2015 - 23:05
Walking too close to the edge for me. If a strange dog appears or a fight starts among the six there is no way to control the situation with less than a dozen people for backup. Having six dogs out at once is how the police usually find the owners body or someone else who got into the yard stretched out dead. Running free with six dogs can be pretty to watch until the unknown enters the picture. I had a group of 8 three to four month old puppies get into a fight and only four of them were actively involved but I thought I was going to have to kill one of them to save the rest. I got on top of the aggressive female pup with my knee and drove her into the ground so hard she left an imprint before she would let go of another pup. The rest of the pups were about to join the fight and if they had there is no telling the outcome. A couple of the other pups were coming in to help the winning pup and the only way to stop the fight was to take out the aggressor quickly. All the pups lived and did well but I was exhausted before I got these 8 little GSD pups probably only 30-35 pounds under control. A big pack of dogs running free is an accident waiting to happen. Two adults at a time is my rule and separating two fighting dogs is damn near impossible but perhaps I can save their lives at least. A pack of dogs is nothing to fool with no matter how well you know them if you are by yourself or outnumbered.

by Hundmutter on 27 May 2015 - 16:05
Panzertoo, I love watching your pack run. Bubba does have a point
about the difficulties of sorting out a real fight; but I'm assuming you
only do this like I used to, in an enclosed area where no stranger
dogs or people can enter the mix; and that you leave at home any
dogs you know don't get on well enough to run in a pack ?

by kitkat3478 on 30 May 2015 - 21:05
backup. Having six dogs out at once is how the police usually find the owners body or someone else who got into the yard stretched out dead
A little dramatic, i think...lol

by kitkat3478 on 31 May 2015 - 19:05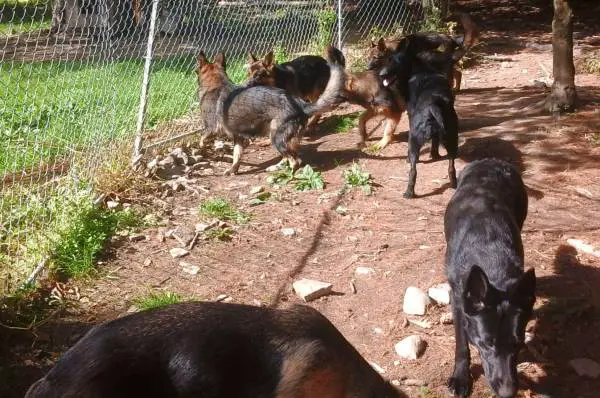 This is everyday life...
by Nans gsd on 02 June 2015 - 01:06
Beautiful , but I'd be scared shitless to have 6 running loose; even my 2 get separated one in crate one loose if I turn my back for a second. Hate dog fights...Nan
by vk4gsd on 02 June 2015 - 03:06
i don't know kitkat or her dogs and it may be a northern hemisphere thing but around here seeing dogs in an area worn down to bare dirt is a red flag that would get you reported for a closer look by animal control.
not an accusation but just saying that is a warning sign here.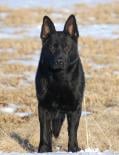 by Jenni78 on 02 June 2015 - 03:06

Worn down to bare dirt or perhaps that's a shaded area under large large trees that never has any grass???

by Western Rider on 02 June 2015 - 03:06
In my area we have no idea what there is but dirt. Why would that be a red flag. Some only have a small area for dogs to play on and there is no way for grass to grow. Even if they have a large area the area they hang in will be barren.

by alienor on 02 June 2015 - 04:06
Nice to see the dogs running around, 'free'. Very pretty.

But yeah, I wouldn't probably do that, even with only two I always keep one on a leash when we are out in case of prey breaking cover. One on the chase will always return within one or two minutes. Not sure about two. Much less six or eight. Not to mention the possibility of them going after the neighbors goats, cows, sheep, cats... Makes me queasy just thinking about it. As does the feed bill. But more power to you all with packs. Takes a lot of good management.


---
---
Contact information
Disclaimer
Privacy Statement
Copyright Information
Terms of Service
Cookie policy
↑ Back to top