by Smiley on 30 May 2015 - 14:05
I want to put an end to the misperception that all German showlines have roached backs, slighlty curved backs, and/or frog hocks. I admit that from what I have seen, personally, it does not disprove the preconception. However, I stumbled across a couple websites today of GSL that had me do a double take! OMG. These dogs were gorgeous, balanced, moderate, strong toplines, strong hind ends with lots of performance titles. Interestingly, they were not on websites of IPO OR Sieger breeders. I don't know if they were "culls" or not but they ended up in the hands of breeders who were not Sport or Conformation breeders and represented a type of GSL that I have NEVER seen before in the german showline world but GREATLY admire! The breeders appear to all be very small breeders...that does not shock me.....I live by the Margaret Mead quote...."Never doubt that a small group of dedicated, thoughtful people can change the world. Indeed, it is the only thing that ever has...."
So, if you own a German Showline that is of a different type than what is advertised please post!!!!! I am really excited about this discovery!!!!!!
Thank you so much,
Sarah

by Smiley on 30 May 2015 - 14:05
Nobody?
Ok. I'll start......Here are a couple pics of the GSL dogs I stumbled across and loved in terms of their balance, MODERATION, and type...... the second dog is a UKC champion with 9 performance titles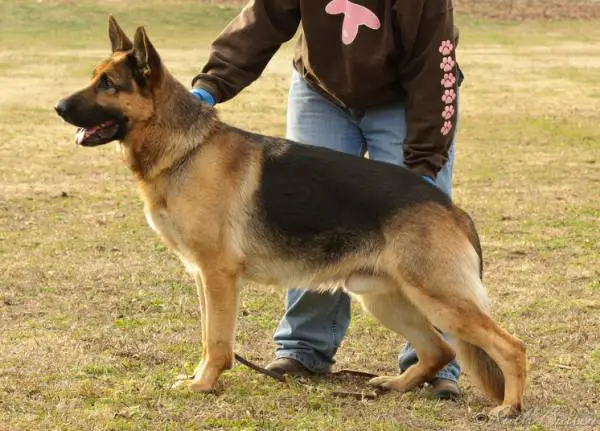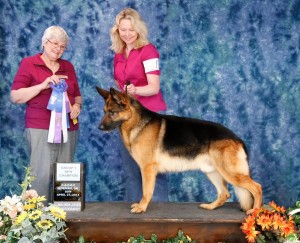 by Western Rider on 30 May 2015 - 14:05
Smiley why didn't you use your dog do you not have one that meets these requirements you ask for. Why use a total strangers dog.

Many pictures have been posted of dogs that meet the idea that you are trying to show and also how stacking can make them look so different

Working or show line there are dogs with balanced conformation of the over all dog not just the back and those who don't.

by Smiley on 30 May 2015 - 15:05
Hey, western Rider!!! Nah, my girl is all working line and I am talking about German Showline dogs!! I was pleasantly suprised to find the type I posted in the German showline world!! Not what is typially advertised or what I have seen at the Sieger show I attended. I would like to know if thre are more of this "type" of German showline dog out there and if so, where are they!! As you can surely see, this GSL type is quite a different type than what most of us have been exposed too and what is currently fashionable....
I hope more people chime in and show their german showline dogs that have similar type...will help bring my faith back in the breed! haha

by Smiley on 30 May 2015 - 15:05
People always say on here...there are lots of balanced dogs out there...well, where the heck are they all? I spend every single day of my life scouring dogs and I haven't found them. The dogs I just posted that I stumbled across are my ideal..classic, traditional...old fashion proper type of what a german shepherd should be. Balanced. Moderate. Typey.
I have looked at MANY modern/advertised german showlines as an outcross for my bitch as they have some great traits....nice coats, pretty heads, nice depth of body but I couldn't get past the backs and hocks. I was very pleased to discover the existence of this UNDERGROUND German showline group!!!! Fascinating and very good for the breed.
I hope more people will post pictures of their dogs that are of this different type as I would very much like to see if they are out there (secretly) in numbers!! And, I want others who may be like me and think GSLs are only extreme to see tha there are others out there who represent a different type....
Sarah
by Blitzen on 30 May 2015 - 15:05
IMO most breeders of GSL's would not consider either of theses dogs to be correct in type or conformation. If they were bred by breeders who title their dogs, they were probably sold as companion dogs, not breeding prospects. Since we don't have the persmission of the owners to be any more specific, I hesitate to say much more.
If I were breeding and my intent were to produce dogs that could do well in AKC performance venues, IPO, dock diving, etc, I'd probably take a longer and more in-depth look into these dogs. If my intent were to breed GSD's that could also receive V ratings, KKL's plus IPO and AKC performance venues, then I would look elsewhere. It all depends on what you expect from your litter.



by Western Rider on 30 May 2015 - 15:05
Is your dog built like the ones you are showing that you think so highly of. I have show line and working line and crosses now they don't look like the ones you are showing but they are balanced and strong. They need to be to keep up with me riding 20-30 miles a day some times as I love endurance riding and need to train.
Yes all but one is titled she is to young

by Smiley on 30 May 2015 - 15:05
Hi, Blitzen! I would probably agree with you....
But, you know me, personally, from our conversations and can attest to the fact that I have zero hidden agenda in terms of breed bashing. I have always maintained that there are strengths and weaknesses in every GSD branch. Geesh, I am the crazy dreamer that wants to combine all the GSD worlds...Whites, ASL, GSL, GWL!!
You know how you and others are always like, "Sarah, there is no perfect dog" as I have lamented for years my displeasure with the current breeding programs. Well, these dogs I stumbled across are my IDEAL!!!!!! This is what I have had in my head that I have tried (unsuccessfully) to explain to people on here!! To me, these dogs represent the CLASSIC german shepherd type that I grew up with and want to recreate!! I found them!!! I was shocked to find that they were german showline....fascinating!
I want to know if other people have these dogs.....I feel they are an underground type of movement. THIS IS THE TYPE I HAVE HAD IN MY HEAD AND HEART!!!!

Sarah

by Smiley on 30 May 2015 - 15:05
Western Rider....the thing that I LOVE LOVE LOVE about the dogs I posted is not just the balance but the balance COMBINED with TYPE!! Lots of German shepherds are athetic and balanced but that does not mean they have type. The heads on these dogs in other pictures; the depth and solidness of body; the coats and overall structure reprsent what I consider ABSOLUTELY PROPER GSD TYPE!
Here is my girl: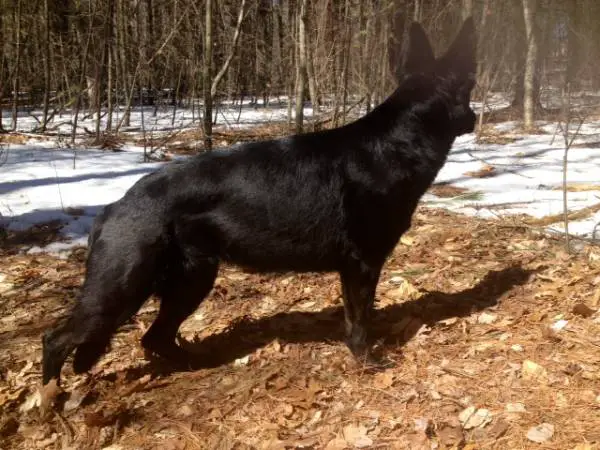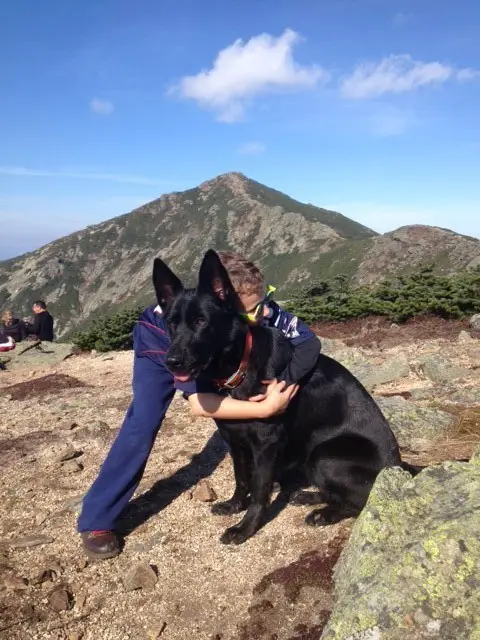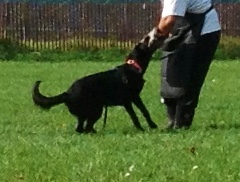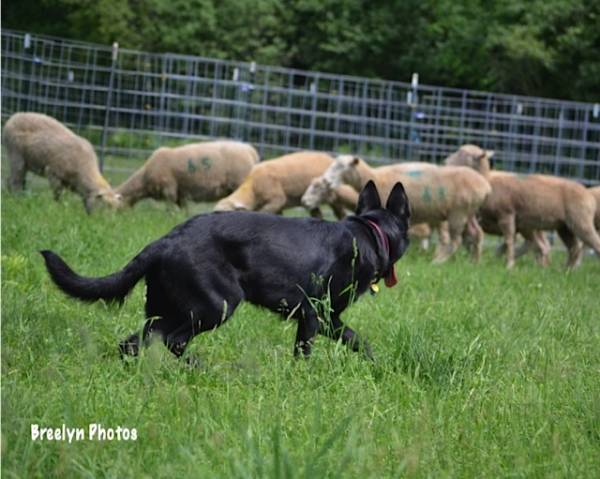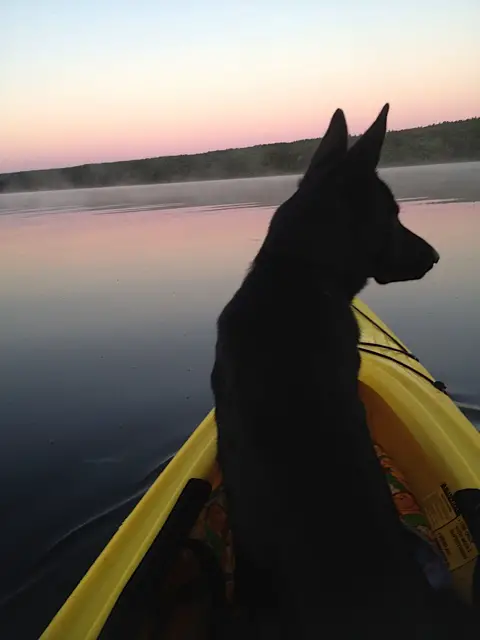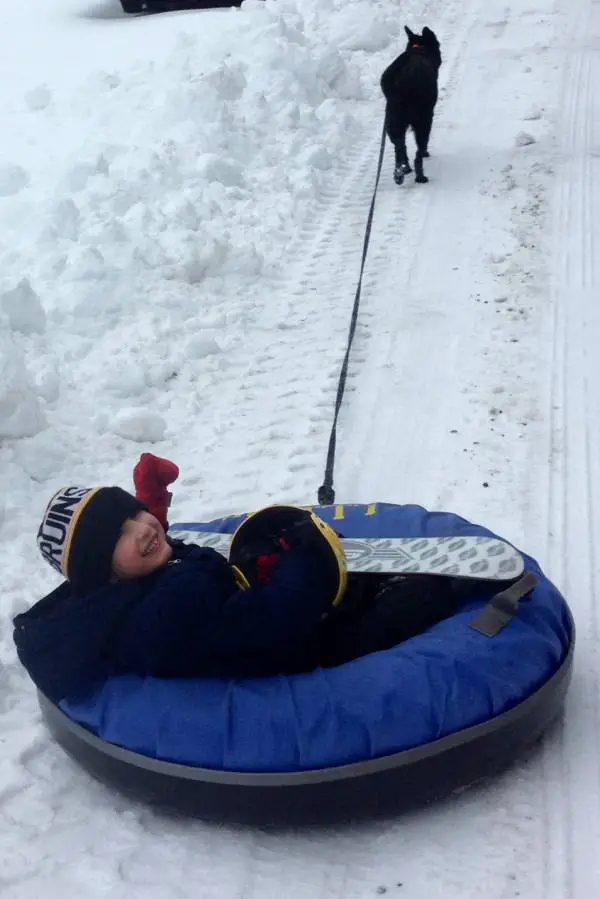 by Blitzen on 30 May 2015 - 16:05
Now that you have found your ideal dogs, which one are you going to breed with Sky?
---
---
Contact information
Disclaimer
Privacy Statement
Copyright Information
Terms of Service
Cookie policy
↑ Back to top