by SporterGSD on 12 July 2015 - 15:07
I`ve owned and seen males from the bloodline: Pakros d´Ulmental - Bax von der Luisenstraße - Odin vom Hirschel

In general I can say that all of them were outstanding in pigment, above average in size, featured high withers

Most outstandingly I found that they were all very strong in Drive as well as Temperament and highly intelligent ( I have other GSD males to compare to)

Has anyone else noticed outstanding working ability/quality in this specific line?

If yes pls link , I`d be very interested to see some pedigrees
by Ibrahim on 12 July 2015 - 22:07
I personally have never heard it before that Bax line is outstanding in temperament and working ability. I heard Vegas wasn't so good in drives nor bite work. In regards to conformation, this specific line contributed to the curved back. In regards to true high withers, if you read Mr. Louis Donald's article on withers, maybe this line hasn't truly very good high withers afterall
by Haz on 13 July 2015 - 00:07
Videos??
by Mackenzie on 13 July 2015 - 07:07
I have a son of Bax v Luisenstrasse who is now just eleven years of age. He has very strong character and drives even now. He is also a very intelligent male. His work ethic when he was younger was excellent. He was very quick to learn and was above average in nose work (search and find, tracking) and the bite work. His mother is Inca d'ella Isola di Baroni who was who was a grey dog.
Unfortunately I lost most of his photos in a computer crash but the photo that is here is of his sister at four years of age (I did not own her although I did want to buy her but I was too late). My dog at this age was equal in appearance.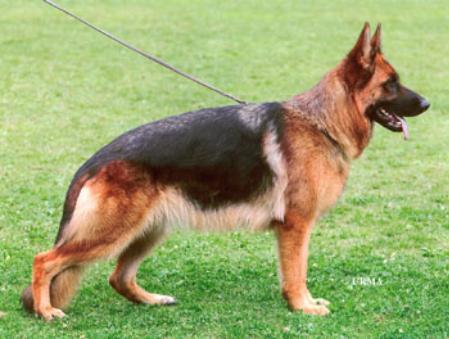 Mackenzie
by Mackenzie on 13 July 2015 - 09:07
Ibrahim
Here is another picture of Bax. What do you think of this one? I notice that the most commonly seen picture of Bax on the datsabase has been removed.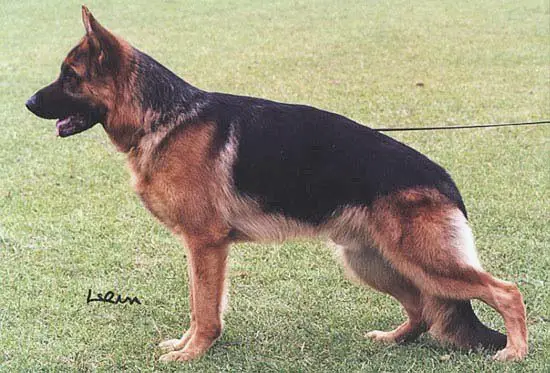 Photo's can be misleading even for Louis Donald.
Mackenzie

by Hundmutter on 13 July 2015 - 10:07
Mac - she is lovely ! As far as anyone can say from one still photo,
a good, correct GSD bitch. Where is she now and what she doing ?
Is she also 11, or was it a different litter ?
by Mackenzie on 13 July 2015 - 11:07
Hundemutter, I think that the female who is the litter sister to my dog may well be dead. I know of no litters from her. She is the female version of her brother.
Mackenzie
by SporterGSD on 13 July 2015 - 15:07
@Mackenzie The male you describe sounds exactly like mine. Lovely pictures! Could you link his pedigree?
@Ibrahim I have to agree with your statement on Vegas. IMO his TSB, movement and overrall conformation are terrible. This is especially evident when you watch him in youtube videos. Doesn`t deserve SCHH3 or VA IMO
Although Vegas looks very similar to Pakros and Bax, when I look at his progeny and other pictures of him and Pakros+Bax at other ages I doubt that he`s true to the line. Look at the linebreedings of Pakros, Bax and Odin. Vegas dominant features do not come from the male-male side of his ancestry.
by Mackenzie on 13 July 2015 - 16:07
SporterGSD
Sorry, I do not have a link to my dog's pedigree, however, you do know Bax's pedigree. The dam of my dog is Inca della Isola dei Baroni and you can find her in the pedigree search on this database. This will complete the breeding information for you.
Mackenzie
by SporterGSD on 13 July 2015 - 17:07
Mackenzie
Oh I could smack my head for not figuring that out by myself...
Thank you very much for the contribution you made.
Marcel
---
---
Contact information
Disclaimer
Privacy Statement
Copyright Information
Terms of Service
Cookie policy
↑ Back to top