by Get A Real Dog on 28 May 2007 - 03:05
I'm thinking maybe we should all quit trying to lay blame or defend and do something to really help.
What do you all think about starting a fund to buy Max's owners a new pup?
I would be willing to start with a $50.00 donation. I think 4pack would be willing to match that. Maybe Echo Meadows could be the "bank" and facilitate the transaction with a breeder.
I'm thinking if we get 15 people to donate $50 and we find a breeder willing to help out with a pup, we could ease the pain these people are going through.
I'm in for $50 what do you all say?
Any East German breeders out there willing to help?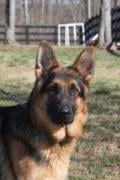 by greatestgsd on 28 May 2007 - 05:05
I am in.
by seriously on 28 May 2007 - 05:05
Yeah, there's got to be a great breeder out there who wants to sell a puppy to get tied to a porch.
by LaPorte on 28 May 2007 - 05:05
Yeah, on a choke chain no less, when no one is home....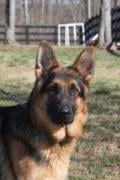 by greatestgsd on 28 May 2007 - 05:05
people who live in glass houses should not throw stones! I guess I can take it that LaPorte and seriously have never made a mistake in their lives! Wasn't it one of yous that said hind sight is 20/20? I can honestly say that I have made mistakes in my life!

by yellowrose of Texas on 28 May 2007 - 05:05
Many a dog in foreign countries are raised on and stay tethered so knock it off...the Chain and the choke collar didnt kill this dog.....get off of it I dont believe in chaining a dog either and just found out one of mine just died on a chain in a backyard in Longview ,Tex and I told him until he got a kennel or a fenced back or side yard, I'll not sell him another dog...I was unaware that he didnt have a containment arrangement.....but in this sad case, we can't crucify the owners....I can contribute some but not $50.00. I'll forward $25.00 at this time,just let me know where to send it and echo meadows and 4-pack know my email ......THIS IS NOT THE PLACE NOR THE TIME FOR CRITICAL RENDITIONS...IF YOU DON'T AGREE JUST KEEP IT TO YOURSELF...I THINK NON OF US WOULD HAVE DONE THINGS LIKE THIS WAY , BUT HIND SIGHT..READ MY THREAD,,,,NEXT DOG WILL BE BEHIND THE DOOR OF THIS HOUSE WITH A SIGN SMITH AND WESSON ON PREMISES AND I WOULD NAME THE NEW MALE DOG JUST THAT "SMYTH AND WESSON".......

by sueincc on 28 May 2007 - 06:05
Well said Yellowrose. I would imagine the owners have learned a terrible lesson. We had a sign on our gate for a long time that had an outline of a hand gun & inside the outline it said "SCREW THE DOG BEWARE OF OWNER".
by HB92649 on 28 May 2007 - 07:05
Yellow Rose,
I'm sorry to hear about the pup in Texas. I am not a breeder but is it not the resposibility of a caring breeder to sufficiently quailfy the living conditions into which a pup is being sold? I would think that one of the most basic questions a breeder would ask is how and where the pup will be kept. I'm not sure I understand how you did not know this owner would not have a kennel or fenced yard?
Prospective puppy buyers are always advised to do their homework. I think it should go without saying that every breeder should do their homework as well when it comes to placing a pup. Sad to say this is not always the case.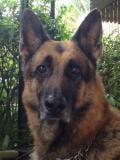 by Brittany on 28 May 2007 - 07:05
I'm sorry... I just cant help but to ask this question... Why are we quickly trying to collect money to get this family a new puppy rather than collecting donation money for a good lawyer? I know for damn sure that if some cop came to my house, shot and killed my dog(s) for trying to protect me.. the last thing that would be on my mind is to get "another" puppy. JUSTICE comes first.. then maybe we should think about collecting money for this puppy, or better yet.. find a German Shepherd rescue organization who rescues German shepherds and then we can get them another dog and to give a gift to a homeless dog by giving him/her a forever home.
by triodegirl on 28 May 2007 - 08:05
This whole situation absolutely breaks my heart. I couldn't bear to even look at the pictures of Max. And I don't blame the owners, as I agree we've all made mistakes. There was a time I had to tie a dog out as I couldn't afford to put up a fence. But wouldn't it be irresponsible to KNOWINGLY put another dog in the same situation where it had to be tied out? The GSD rescue in this area will not even allow any adoptions to a home without a fence. Again, I'm not blaming the owners, just asking the question.

---
---
Contact information
Disclaimer
Privacy Statement
Copyright Information
Terms of Service
Cookie policy
↑ Back to top