by Bucko on 15 October 2007 - 02:10
Does anyone have anything interesting to say about this year's NASS results? I don't know enough to make sense of any trends or fashions the judges are promoting. Were there any patterns you saw? Males and females judged by different judges, of course, so maybe the two patterns differed?
Any shocking results?
Any expected (e.g., Teejay)?
by cledford on 15 October 2007 - 16:10
I'd like to hear the annual review of the courage tests - it is very tellign to hear rfom the masses present an unbiased view of the top dogs and their performances...
Also, is there a score page for the shwo and the bitework?
-Calvin
by DogsToWork on 15 October 2007 - 18:10
Show and protection test results can be found here www.nassresults.com.
My comments on the protection test come from one who has fallen in love with the beauty, companionship, and training fun (well, mostly it's fun!) of the show line dogs.
I was disappointed in the number of dogs who failed the protection test in both male and female classes. People often ask my opinion - genetic? or training issues? It's really hard to say when you are watching dogs and you don't KNOW what their normal training routine is like. I was happy to see what I felt was a strong commitment on the part of the show organizers to make SURE the protection tests were fair, and in accordance with the published rules. As an important example, the heeling to the blind requirement was enforced. I do not believe that requirement has been consistently enforced at some previous Sieger Shows. And while failure to heel for all 3 allowed attempts was not a big reason for failure of the test, I DO think the enforcement of the heeling requirement affected at least some of the attack out of the blind performances. This is only my personal impression, but it seemed to me as though several dogs were not prepared for the full exercise from the get go.
I hope that the WDA continues with consistent application of the requirements. I hope that will allow all of the participants to clearly understand how to prepare. So many of the dogs who failed are gorgeous dogs, and I hate to think about how much of the failure may have been due to training related issues.
On the flip side, I give credit to EVERY dog/handler team who took the field. It can get awfully easy to be an armchair quarterback (which is what I am doing!) without ever putting your own goods out there.
With respect to all of the entries,
DTW
www.JolietSchutzhund.com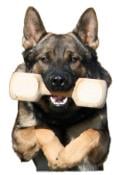 by SchHBabe on 15 October 2007 - 23:10
Does anyone have video of the bitework? I would like to see what constitutes a Pronounced courage rating.
by angusmom on 16 October 2007 - 01:10
ok, i'm not sure about some of the terminology; NP = not presented? if this is correct, could it be for illness or...? and I = insufficient; the dog did not perform all or part of the test? i don't do schutzhund work and so i am ignorant on alot of the "stuff". and even tho my dog will not be part of this, i find it interesting and my dogs breeder is involved, so i'd like to sound like i know what others are talking about.
i have seen and understand some of the german terms (thanks to 1 year of german - hah!), but some of those pesky english terms (just kidding) i'm a bit foggy on. could someone post what all the abbreviations mean? thanks in advance for someones kindness. btw, i enjoyed the nass site. the pictures were lots of fun; but, hey, NO pooper hall of famers? seems impossible......

by VonIsengard on 16 October 2007 - 14:10
I too was very disappointed in the bitework and can probably count on one hand the number of dogs that impressed me. While contributing factors such as a helpers and a field itself can play a role in a dogs performance...a dog that is genetically sound and and well trained should bite, every time...in my opinion. I was shocked to see dogs fail from breeders who I know to produce very good temperament in the past. But as someone said, without knowing the dog yourself its very hard to know what happened. In some dogs I felt what I was seeing was confusion, not weak nerve- that to me would be training. Note I said SOME, not all.
I was however, very impressed with the quality of the top quarter in the youth and young dog classes, and most of the puppy classes also. It was very heartening to see the quality of dogs produced by males that stand at stud here in the US. I thought Hoss's progeny group was very beautiful with very good type, many of his puppies seemed quite spirited.
I am madly in love with Xsena Angel Delight, who won the youth female class. What an utterly beautiful bitch in the stand and in movement.
I also sent a female to be bred to the V2 dog, Yash Bastillie, who was inititially pulled out in the VA group but lost places in gaiting. I think with maturity and experience the dog has a very bright future.
I was pleased to see the Seigerin chosen, in addition to being absolutely correct, she had, again in my opnion, some of the better bitework among the females.
Someone posted in another thread their disappointment at seeing so many VAs given, and I have to agree. 10 out of 30?! That would be akin to giving out 50 VAs in Germany!! What happened to it being the elite rating for only the very, very best? I expected to see maybe 4-6 VAs given per class.
In all, I was very glad I went, its been a few years since I attended and I was very grateful for the opportunity to see what is going on with the west german dogs right now in our country.
by DogsToWork on 16 October 2007 - 14:10
Hi Angusmom. Sadly, there WERE plenty of Poopy Hall of Shamers. You'd be amazed at the things you see out those camper windows. What is the matter with people who think they are exempt from picking up their dog's poop????
Anyway, on the rules and terms. Section III of the Sieger Show Rules at the United Schutzhund Clubs of America site has a pretty decent summary of the rules and what goes on in the protection tests. http://germanshepherddog.com/regulations/sieger_show_rules.htm
Dogs that were not presented at all could be for any number of reasons that people might enter a dog somewhere, but then decide not to go to the show, or decide not to show a specific dog.
PLO = Pronounced Lets Out (Pronounced bite, and the dog outs)
S = Sufficient - only a couple of dogs (IIRC) were given this rating. This was VERY borderline work, even for a NASS IMO.
I = Insufficient - essentially little or no biting. There is one dog where the translator said Insufficient, so that's what we recorded in the results, but I think the actually cause of failure was failure to heel to the blind. It was a female - I'd have to go find my manual notes to figure out which one.
I agree with the poster who described some of the problems as the dogs looking confused. I have watched the protection tests personally at NASS 2006, NASS 2005, NASS 2004 and also UScA Sieger Show 2004 and I think one more of those. IIRC, there wasn't very strict enforcement of the heeling at many if any of those events in the recent past. I think some folks got sloppy in the training which is too bad. I hate to see a potentially good dog "look bad" in the protection presentation - whether they look bad failing OR passing. I know I'm repeating myself, but IMO you can't tell for sure unless you know the dog whether it's bad genes or bad training. So the dogs end up with bad reputations that may or may not be genetic.
Anyway, sorry to answer a couple of questions and then start repeating myself. Can you tell I have a strong opinion about that LOL??
DTW
www.JolietSchutzhund.com
by Sandy on 16 October 2007 - 15:10
So of the top, say, 20 males, which ones really stood out in the protection test? Any of them?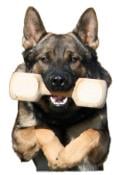 by SchHBabe on 16 October 2007 - 17:10
I'm real curious to see any videos of the bitework. We can make excuses all day long about training, or the lack thereof, but then why enter the dog if you aren't ready to show? It just makes the dog look bad, and the handler, and the breeder. The same thing happens at club trials, but the stakes aren't as high and the audience not so big.
I gotta wonder about the quality of the bitework, though. One of the dogs that placed highly at NASS, and was given a Pronounced courage rating, put on a lackluster performance that I saw just a few weeks prior and earned a Sufficient rating. I wasn't at the Sieger show, so if anyone has video I'd like to see for my own eyes rather than waste my time with mere speculation.
Yvette
by Zuchtwart on 16 October 2007 - 17:10
I know that Teejay ( Nero v Nobachtal), and Gorbi (Quirin v Hochmoor) and Quartz (Xaro v. Ulmental) are considered USA bred because their mothers gave birth to them in the US. To me this seems somewhat of a stretch.
I would think that for a dog to be considered U.S. bred, at the least his mother and his father should have been born in the US.
Anyway, does anyone know the top dogs in the Working Males and Females classes that had both parents born in the US?
---
---
Contact information
Disclaimer
Privacy Statement
Copyright Information
Terms of Service
Cookie policy
↑ Back to top