by Hundmutter on 09 July 2015 - 07:07
For the first time in over 20 years, I have no canine companion. Taz - Devat Adunamoir - was
p.t.s. a couple of weeks ago. He collapsed; and by the time I got him to my vet ('out of hours',
true to form !) his heart was racing and skipping, and was about to give out altogether. So I let
him go. He was 12 years and seven months of age. It has taken me until now to write here about it;
I am not beating myself up, I know I made the right decision for him, at the right moment. But it has
still surprised me how difficult I have found it to report his passing.
Someone recently wrote on the "Working Line vs Showline" thred a description of how their W/L
dogs even though full of fizz and energy while participating in sports &c, could be trusted (contrary
to some opinions) to settle at home, and while on long car journeys would sleep in their crates
with never so much as a whine. Well, Taz was like that too - and he was the best of travellers, every
passenger I have ever carried has commented on the fact. Taz was English-bred from all-German
'showline' dogs.
Now I'll have the problem Blitzen described eloquently the other day about convincing Rescue staff
that it is possible to care for a dog properly and yet have no fenced-in garden attached to your
residence. I don't anticipate having too great a problem with this if I get another elderly GSD, I am
reasonably well known in Welfare circles; but I have settled on the possible option of a smaller, more
lightweight breed - the Whippet - and as I have no previous connection with them, that may pose some
difficulties ! Wish me luck. I am going to take a little break before I start looking, do some of those
things which are more difficult when you have a dog to consider - unless of course a needy dog finds
ME, first !
by vk4gsd on 09 July 2015 - 08:07
hund so sorry for your loss, RIP Taz, a life well lived.

by susie on 09 July 2015 - 08:07
So sorry, Hundmutter. I guess I know how you feel right now.
by Allan1955 on 09 July 2015 - 09:07
Sorry for your loss, Hundmutter.
We don't say it loud, but i am sure we all feel that it is almost like losing a child.
Wish you strenght.
by CelticGlory on 09 July 2015 - 10:07
I'm so sorry about Taz, RIP boy.

by yogidog on 09 July 2015 - 10:07
Allan HAVE U EVER LOST a child
by Allan1955 on 09 July 2015 - 12:07
by Blitzen on 09 July 2015 - 12:07
Oh, so sorry, LInda. I hope, when the time is right, that you find another dog that will be perfect for you.
S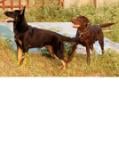 by aaykay on 09 July 2015 - 12:07
The loss has certainly left a void that will need time to heal. I have been there before. Sorry for your loss.

by Sunsilver on 09 July 2015 - 12:07
So sorry, Hundmutter. I will be facing that decision myself not to far down the road, as my oldest is now 13, and having increasing mobility problems.

---
---
Contact information
Disclaimer
Privacy Statement
Copyright Information
Terms of Service
Cookie policy
↑ Back to top